USD gave up some of its recent gains on news that investigators had charged President Trump's former campaign manager regarding the investigation of Russian interference in last year's US Presidential Campaign. Trump's former campaign manager Paul Manafort and another aide, Rick Gates, were both charged with money laundering on Monday. It was also announced on Mondaythat Former Trump advisor, George Papadopoulos, pleaded guilty in early October to lying to the FBI. The indictment of Manafort & Gates includes accusations of conspiracy against the United States, failure to report foreign bank accounts to the US government and conspiracy to launder money, a count that carries a 20-year maximum prison sentence. U.S. Justice Department Special Counsel Robert Mueller's 5-month investigation into alleged Russian efforts to tilt the election in Trump's favor and into potential collusion by Trump aides has Trump claiming the probe "a witch hunt" and, as we have come to expect from Trump, he also commented on Twitter: "Sorry, but this is years ago, before Paul Manafort was part of the Trump campaign. But why aren't Crooked Hillary & the Dems the focus?????". Once again political turmoil is haunting Trump at a critical time for his administration, as they look to pass a tax reform bill and await Trump's selection of the next Fed Chair.
It appears that Federal Reserve Governor Jerome Powell is the first choice of President Trump to be the next Chair of the Federal Reserve, according to an unnamed senior official. Powell is a Republican centrist who is likely to continue the Fed's strategy of gradual interest rate hikes but may also be open to easing some regulations on banks. Powell, 64, has consistently backed Janet Yellen's plan to hike rates slowly to head off a potential surge in inflation without disrupting an economic recovery that remains in a fragile state. An unnamed senior administration commented that "Trump hasn't made a final decision and could change his mind" and also commented that "an announcement is scheduled for Thursday".
EURUSD is trading around 1.1635 in early Tuesday trading.
USDJPY is relatively flat, trading around 113.12.
GBPUSD currently trades around 1.3210.
Gold is little changed in early trading at around $1,276.50.
WTI is 0.15 lower at around $54.12 in early trading.
Major data releases for today:
At 06:30 GMT, Bank of Japan Governor Kuroda will give a press conference to the markets regarding monetary policy. He will comment on the factors that affected the most recent interest rate decision, the overall economic outlook, inflation, and clues regarding future monetary policy in Japan.
At 10:00 GMT, Eurostat will release a host of Eurozone Data: GDP (YoY & QoQ) for Q3, CPI & CPI Core (YoY) for October and the Unemployment Rate for September. Unemployment is forecast to have dropped to 9.0% from August's 9.1%. CPI-Core is expected to come in at 1.2% slightly lower than the previous release of 1.3% with CPI forecast at 1.4% from 1.5%. Annualized GDP is forecast to come in slightly higher at 2.4% from the previous release of 2.3%. The quarterly GDP is expected to come in at 0.5%, slightly lower than the previous release of 0.6%. The markets will be looking for any significant deviation from the forecasts which will likely cause EUR volatility.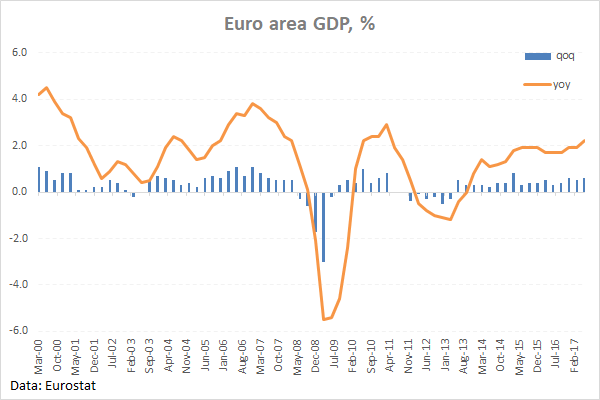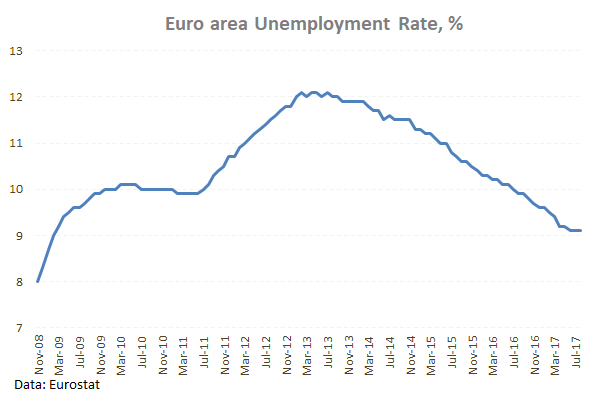 At 19:30 GMT, Bank of Canada Governor Poloz is scheduled to appear before the House of Commons Standing Committee on Finance in Ottawa. He will be accompanied by Senior Deputy Governor Carolyn A. Wilkins.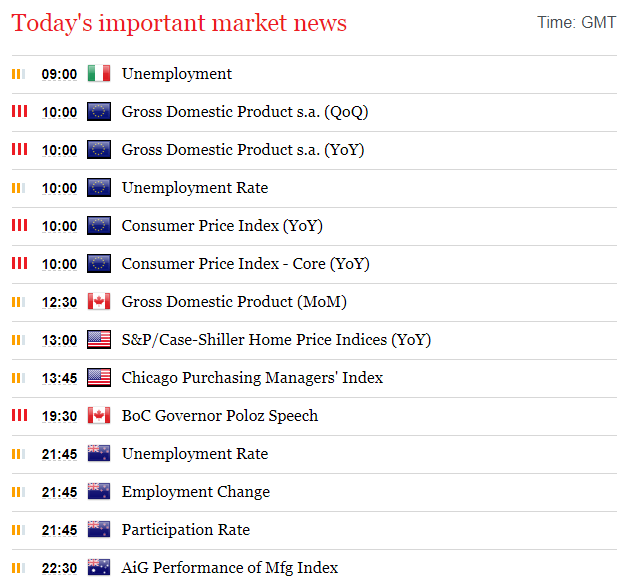 Source: Fxpro Forex Broker
Fxpro Forex Broker Review and Details
---
Categories :
---
Tags :
GDP (YoY & QoQ)
Political Headache for Trump
US government
---