Are you Ready for Friday's NFPs?
The U.S. Nonfarm Payrolls and Unemployment Rate are out this coming Friday, February 2, 2018, at 13:30 UK Time (GMT), and are expected to cause significant volatility in the markets.
An economic indicator that tends to trigger sharp market movements in the minutes leading up to its release and afterwards, the NFP is usually released by the U.S. Department of Labor on the first Friday of each month, outlining changes in the number of employees, excluding farm workers and those employed by the government, non-profit organisations and private households.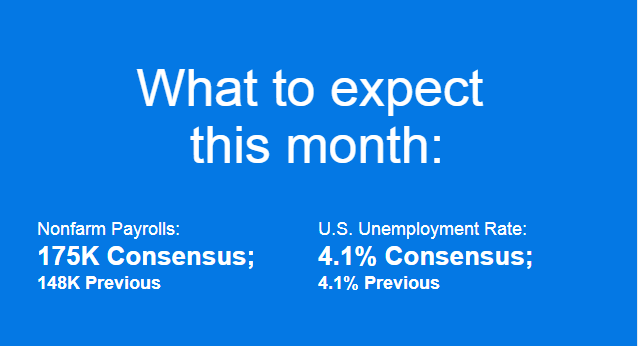 This week's NFP release, per market consensus, is expected to show that the U.S. economy added 175K jobs in January after adding 148K in December – which was below market expectations. The U.S. Labour market continues to strengthen as the global economy grows and market expectations are forecasting a strong NFP release as we begin 2018. The markets will be closely watching the annualized average hourly earnings figure, which was 2.5% in December with many forecasts calling for January's release to grow slightly to 2.6%.
If we see a significantly bad NFP release of <115K, coupled with an Unemployment Rate >4.2%, the markets will most likely see USD come under downward pressure. A strong NFP release of >235K, with the Unemployment Rate below 4.0%, will likely result in USD strengthening.
As always, it will be important to note any revision from the previous month (148K) as this will impact market sentiment regardless of the current release.
THREE IMPORTANT REPORTS TO LOOK AT
US Nonfarm Payrolls
Nonfarm Payrolls measures the change in the number of people employed during the previous month (excluding the farming industry). Job creation is the key indicator of consumer spending, which accounts for the majority of economic activity. In January, the NFP missed the expectations of 190K, with a reading of only 148K. This month, analysts anticipate a reading of 178K.
US Unemployment Rate
The Unemployment Rate measures the percentage of the total work force that is unemployed and actively seeking employment during the previous month. Currently, the job market is near to full employment, and the unemployment rate is stable at 4.1%. The consensus forecasts a reading of 4.1% for February.
US Average Hourly Earnings MoM
Average Hourly Earnings measures the change in the price businesses pay for labour (excluding the agricultural sector). Last month, the data were in line with expectations. This month, analysts anticipate a stable growth at 0.3%.
Source: FxPro Broker , AvaTrade Forex Broker
---
Categories :
---
Tags :
Friday's NFP
---