Bank of England Meeting, EU industrial production, BoJ Kuroda comments – The Bank of England Monetary Policy Committee (MPC) meeting will take center stage today. The outcome of the meeting is hardly under debate: another 9-0 vote to keep policy unchanged is about as certain as things get in the financial world. Attention will therefore focus on the tone of the minutes and, more importantly, the revised forecasts in the Inflation Report that comes out at the same time. There will be a press conference with Gov. Carney following the publication of the report.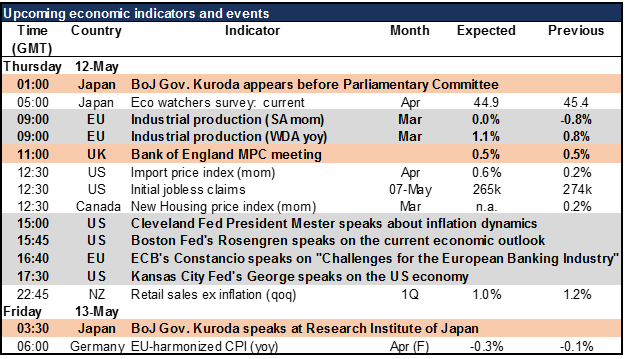 The minutes to the last MPC meeting in April said that the data were likely to prove harder to interpret than usual, because of the unsettling impact of the EU referendum on activity. That's all to the good, because the news has largely been negative. The April PMIs were all well below estimates, with the manufacturing PMI actually slipping below 50. Yesterday's March industrial and manufacturing production figures also missed forecasts, with output continuing to fall on a yoy basis. On the other hand, there are some signs that inflation is gradually accelerating. This makes for a difficult policy mix.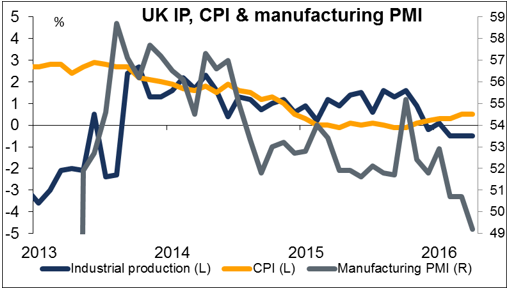 Until the referendum is over however the BoE is likely to maintain a cautious stance, which is likely to keep GBP under pressure, in my view.
Needless to say, the path of the UK economy after the referendum will be very different depending on the result. That poses a problem when the Bank makes its new forecasts.Gov. Carney has explained that the Bank takes developments in markets and surveys as given and feeds those through into the forecast. Rather than try to forecast the winner, they just assume that the status quo continues. However, the latest polls show the "Leave" side winning, albeit by a small margin. That's a problem as the markets discount at least a possibility of "Leave" but the Bank basis its forecasts on "Remain." How to resolve this contradiction will probably be one of the main topics of the press conference.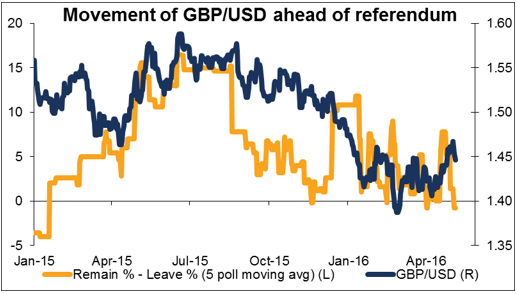 Source: Fxprimus Forex Broker (Review and Forex Rebates Up to 85%)
---
Categories :
---
Tags :
Bank of England
forex bonus without deposit
Forex Broker
forex broker bonus
forex learn
forex learning
forex learning pdf
forex tutorials for beginners pdf
how to trade forex for beginners pdf
Inflation Report
learning forex trading pdf
MPC meeting
UK economy
---