China's economy has been robust throughout 2017 as a continued recovery in manufacturing and industrial sectors, a healthy property market and surprisingly strong exports have helped push growth in the first three quarters close to 6.9%. However, data on Tuesday from the Chinese National Bureau of Statistics showing fixed-asset investment growth declined to 7.3%, through January to October, below forecasts of a 7.4% growth. Further disappointing data showed year-on-year industrial output coming in at 6.2% in October and significantly lower than September's strong release of 6.6%.
Many believe this contraction in growth is likely to continue in the coming months, albeit at a very moderate pace, as China looks to limit the risk of debt, which slows demand, and its push to improve pollution that has negatively impacted factory output. Consumer data is also showing signs of waning as Retail Sales (YoY) for October came in at 10%, missing forecasts of 10.4% and below the previous months reading of 10.3%. With President Xi Jinping stating that "China will focus on quality over speed as it pursues economic growth" and restating the need to improve pollution and reduce riskier lending, it is likely that China will struggle to move towards a more domestic demand driven economy.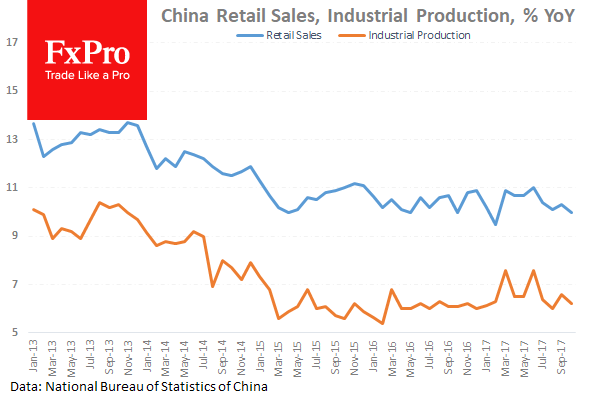 The markets are now focused on today's gathering of several central bankers in Frankfurt, Germany, who are taking part in an ECB organized event. The central bankers, including the Fed's Janet Yellen, the BoE's Mark Carney, the ECB's Mario Draghi and the BoJ's Haruhiko Kuroda, will participate in a panel titled: "At the heart of policy: challenges and opportunities of central bank communication". Needless to say, the markets will be keenly listening to any hints on future monetary policy that could cause market volatility.
EURUSD is slightly higher in early Tuesday trading at around 1.1672.
USDJPY is little changed, trading at around 113.65.
GBPUSD is unchanged overnight, currently trading around 1.3115.
Gold is 0.15% lower in the early trading session at around $1,276.50.
WTI is 0.15% lower in early Tuesday trading at around $56.82.
Major data releases for today:
At 07:00 GMT, the Statistical Office of the European Union, Destatis, will release the Harmonized Index of Consumer Prices (YoY) for October. The statistical methodology results in an index of Consumer Prices correlated across all EU member states to define and assess price stability. Consensus is calling for an unchanged reading of 1.5% – any significant deviation from the forecast could see EUR volatility.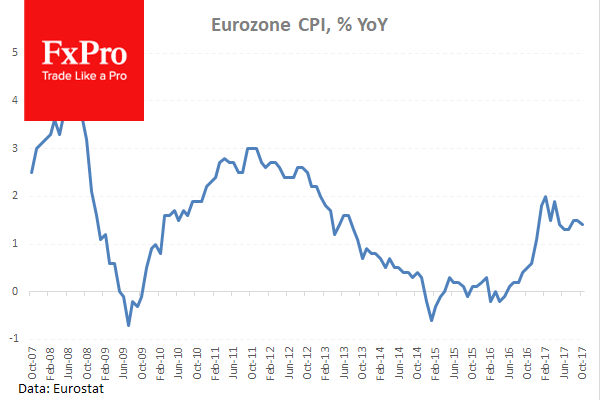 At 08:05 GMT, the CEO of the Federal Reserve Bank of Chicago and current FOMC member Charles Evans is scheduled to speak at the European Central Bank Conference in Frankfurt, Germany on the topic of "Communications Challenges for Policy Effectiveness, Accountability and Reputation".
At 9:00 GMT, Sabine Lautenschläger, a member of the European Central Bank's Executive Board, is scheduled to speak at the opening discussion at the Banking Supervision, Resolution and Risk Management Conference during 20th Euro Finance Week in Frankfurt, Germany.
At 9:30 GMT, UK National Statistics will release Consumer Price Index (YoY) for October. Consensus is calling for a slightly higher release of 3.1% from the previous 3.0%. The Bank of England had suggested that inflation in the UK will peak in 2018 at near to 3.5% before retracing lower. If this release of CPI is significantly higher than expected, we may see a change in monetary policy from the BoE that will result in higher interest rates. Be aware that any deviation from forecast is likely to result in GBP volatility.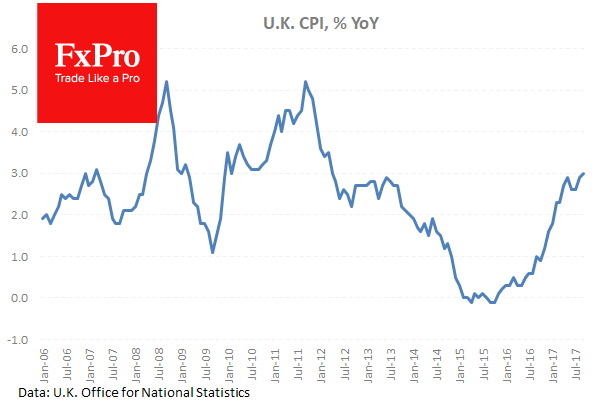 At 10:00 GMT, ECB President Mario Draghi, Fed Chair Janet Yellen, Bank of England Governor Mark Carney and Bank of Japan Governor Haruhiko Kuroda are scheduled to participate in a policy panel: "At the heart of policy: challenges and opportunities of central bank communication" at the conference "Communication challenges for policy effectiveness, accountability and reputation" organized by the ECB in Frankfurt, Germany.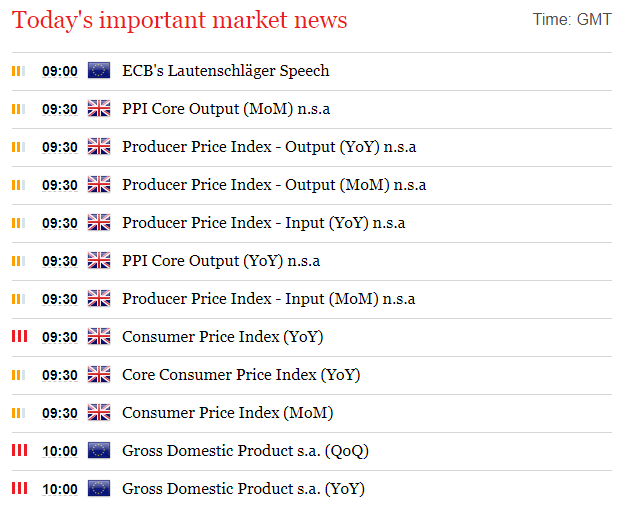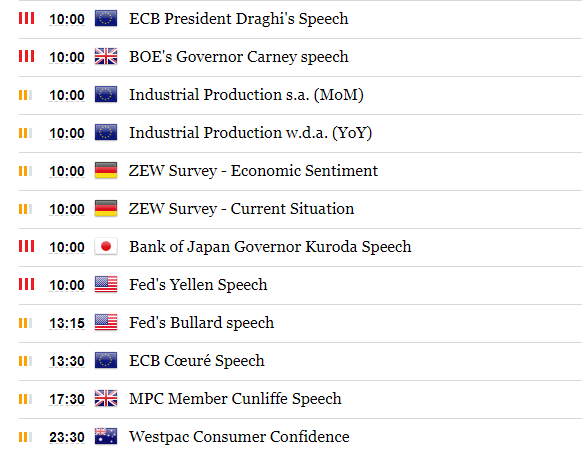 Source: Fxpro Forex Broker
Fxpro Forex Broker Review and Details
---
Categories :
---
Tags :
China's economy
Chinese Data
Retail Sales (YoY)
---