[text]
Crude & Brent Oil Fundamental Analysis
Crude Oil is trading at 44.50 flat today after taking a big fall on Wednesday after inventory levels far exceeded expectations. Brent Oil added 41 cents climbing off its bottom to trade at 48.88. Even though the dollar has surged and the U.S. economy is outperforming the rest of the world, investors need to be concerned, Societe Generale head of U.S. macro strategy Lawrence McDonald.
"The dollar is creating tremendous systematic risk," McDonald said Wednesday on CNBC's "Futures Now."One issue is created from crude oil, given that crude oil prices are inversely related to U.S. dollars, since as the value of the dollar increases, it takes fewer of those dollars to buy a barrel of oil.Crude oil's free fall may be close to bottoming, according to CNBC's January Fed Survey.
Traders in the survey forecast that the lowest price for WTI crude in the current downturn will be $40 on average per barrel, about $6 below its current price. Among the 33 economists, money managers and investment strategists surveyed, the range of bottom estimates was $25 to $48.Crude oil futures have tumbled nearly 60 percent from the recent peak of $107 in June.
Oil Chart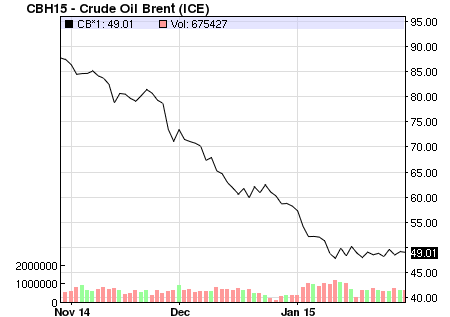 fxempire
[/text]
---
Categories :
---
Tags :
Brent Oil
Fundamental Analysis
Oil Fundamental Analysis
---