Crude Oil Technical Analysis – The WTI Crude oil market bounced slightly during the day on Wednesday, as it looks like we are ready to continue the uptrend. With this, it's very likely that the buyers will return and try to break back above the $50 level, and then possibly even higher than that. With this being the case, pullbacks should be thought of as potential value, as there is a lot of noise between current levels in the $46 level. With that being the case, it seems that the buyers are still very much in control, and that the crude oil markets will continue to grind away to the upside. With that being said, it's not until we break down below the $46 level that I think we would be in any type of trouble, and truthfully it's not until we break down below the $43 level that the trend changes in my opinion.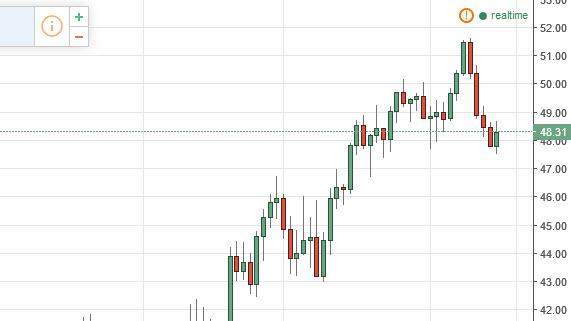 Brent markets went back and forth during the day on Wednesday, as we bang around just below the $50 level. There is a significant amount of support below and extending all the way to at least the $48 level, and then below there at the $44 level. With that in mind, I think that pullbacks will offer buying opportunities and supportive candles of course will attract buyers as the market could continue to go much higher given enough time. Regardless though, I would anticipate that there is going to be a significant amount of volatility so ultimately you're going to have to be able to deal with that.If we do break down from here, is going to be a fight until we get to the $44 level. Once we break down below there we would have significantly snapped a massive trend line, and that of course would be a very negative sign. The markets then would find themselves drifting down to the $38 level, and then possibly much lower. It should be noted that last week's candle ended up being a shooting star which of course is very negative.
Source:Fxempire
Crude Oil (WTI) (N6) Intraday: the downside prevails.
Pivot: 48.72
Most Likely Scenario: short positions below 48.72 with targets @ 46.50 & 45.55 in extension.
Alternative scenario: above 48.72 look for further upside with 49.30 & 50.00 as targets.
Comment: the RSI is mixed with a bearish bias.
Oil Chart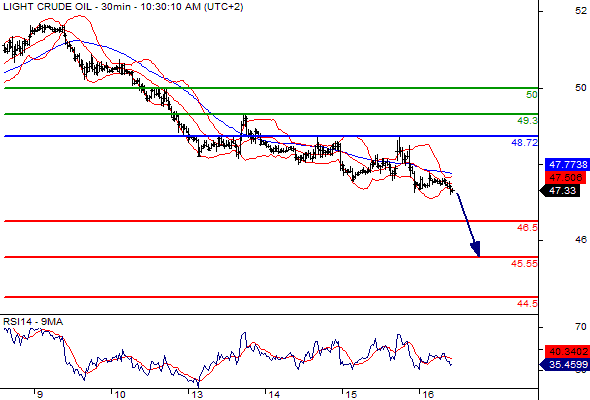 ---
Categories :
---
Tags :
Crude Oil (WTI)
Oil Market
Oil Technical
WTI Crude Oil
---