Daily Forex Analysis – April jobs report will be the market mover today and could potentially dictate the short-term direction in prices. While gold, EURUSD and USDJPY have all recovered from their recent strong moves, a short-term pullback is likely on the cards as gold continues to remain bullish and could eye 1290 while EURUSD sitting at the 1.14 key support could see a rally back to 1.1490.
EURUSD Daily Analysis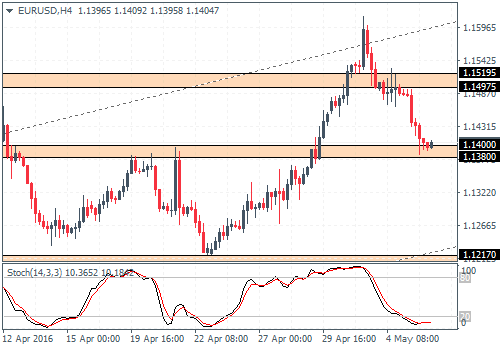 EURUSD (1.14): The continuation following the reversal near 1.16 has sent the EURUSD to 1.1405 lows right near the support level of 1.14 – 1.1380. Resistance is seen near 1.15195 – 1.15975, which could see a bit of a retest if the declines manage to hold at the current support level. On the 1-hour chart, we see a bullish divergence, which when combined with the price at support, signals a move to the upside. However, this could potentially form a median line failure, which will eventually see EURUSD fall back lower. A break below 1.140 – 1.1380 could see EURUSD push lower to 1.1217 – 1.1143.
USDJPY Daily Analysis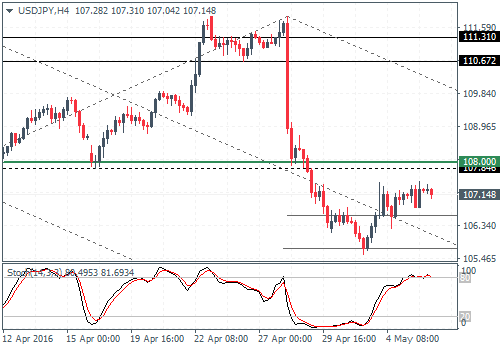 USDJPY (107.1): USDJPY has managed to push higher and is now closer to the resistance at 108 – 107.85. If price action doesn't rally higher to test this resistance, we could potentially expect to see near-term declines on the card, as seen by the hidden divergence on the 4-hour chart. USDJPY could fall back within 106.58 and 105.70 levels ahead of further upside. A potential break above 108 resistance could pave the way for USDJPY to test 110.67 – 111.31 resistance.
GBPUSD Daily Analysis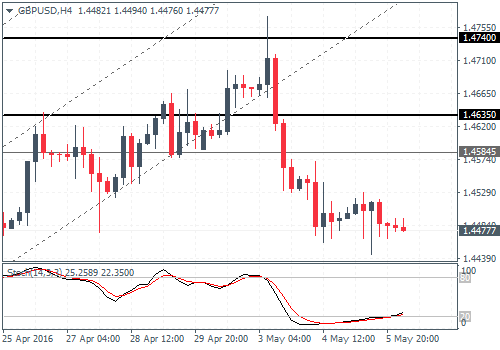 GBPUSD (1.44): GBPUSD closed with a doji pattern yesterday and today's price action could be decisive. A bullish close could see GBPUSD move towards the previous April 28th highs above 1.4635 or a bearish close below the doji low could see the support at 1.4425 being broken for a test to 1.420. On the 4-hour chart, with the brief test to 1.474 resistance, GBPUSD eventually broke down below 1.4635 – 1.45845 minor support/resistance and could potentially move higher to test this broken support for resistance ahead of a decline to 1.4312 – 1.430. A bearish close on GBPUSD today below the doji's low could signal further continuation to the downside towards 1.420 and eventually to 1.415 – 1.41265.
Gold Daily Analysis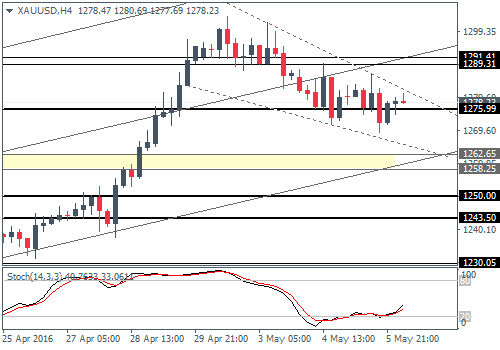 XAUUSD (1278): Gold prices have eased back on their momentum with the past three candlesticks closing in a small bodied pattern, This could potentially indicate a risky move in the near term. The 4-hour chart shows a possible bullish pennant continuation pattern which could spell further upside in Gold, but subject to price action clearing above 1291.41 – 1290 level which is likely to be tested for resistance. A bullish breakout here could see gold position itself for a stronger breakout potentially breaking above the 1300 handle. Alternately, failure to clear the resistance at 1290 – 1291 could see a failed pattern, that could open up the downside risks for a dip to 1262.65 – 1258.25.
Source: Orbex Forex Broker (Review and Forex Cashback up to 85%)
---
Categories :
---
Tags :
Daily Forex Analysis
EURUSD Daily Analysis
forex bonus without deposit
Forex Broker
forex broker bonus
forex learn
forex learning
forex learning pdf
forex tutorials for beginners pdf
how to trade forex for beginners pdf
learning forex trading pdf
Orbex Forex Broker
USD/JPY
---