Daily Forex Market Preview – GBPUSD is likely to see a retracement back to 1.32 level ahead of the inflation report hearing and the BoE meeting this week. The falling wedge pattern on the 4-hour chart is indicative of a short term correction to the upside with 1.32 level in focus having acted previously as a strong support level; a retracement could establish resistance here. Gold prices, on the other hand, could stay range bound within 1375 and 1350 levels with further gains or declines coming off a breakout from either of the two levels.
EURUSD Daily Analysis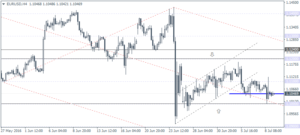 EURUSD (1.104): EURUSD closed with an outside bar on Friday with prices still supported above 1.10. The ranging price action between 1.110 and 1.10 is, therefore, likely to continue over the week with a breakout off these levels likely to see a continuation. On the 4-hour chart, EURUSD has been posting lower highs ever since prices bounced off the 1.0950 level. Minor support/resistance is seen at 1.1045 which could see the sideways price action continue to move within the levels mentioned.
USDJPY Daily Analysis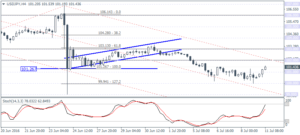 USDJPY (101.43): USDJPY is looking to retrace its declines with Friday's session closing in a modest spinning bottom candlestick pattern. A bullish close today above the resistance at 102 could signal the correction. On the 4-hour chart, we can see a strong hidden bearish divergence in play with 102 very likely to hold out as resistance. USDJPY could, therefore, remain range bound within 102 and 101 levels in the near term. A break below 101 could, however, signal a test to the 100Yen psychological support level.
GBPUSD Daily Analysis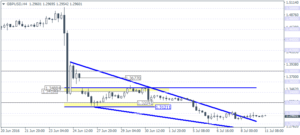 GBPUSD (1.296): GBPUSD formed an inside bar on Friday and could potentially signal either a continuation or a retracement depending on which way the breakout is triggered. Last Thursday's high of 1.3047 and lows of 1.2876 remain the key levels of interest. To the upside, resistance is seen at 1.32 which previously acted as support and could potentially cap the rallies. Further upside is expected only on a breakout above this level. To the downside, 1.28, last week's lows remain the key level. On the 4-hour chart, prices are seen a gradually breakout from the descending wedge pattern, and further upside can be seen only above 1.30, for a move to 1.312 – 1.32.
Gold Daily Analysis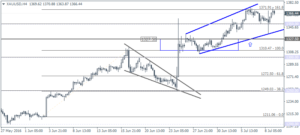 XAUUSD (1366.44): Gold prices have remained supported to the upside, but the price action is showing signs of consolidation above the $1350 handle. After falling to 1350, gold prices briefly pulled back and closed the latest 4-hour session within a spinning top near 1371.91. A bearish follow through here could potentially signal a decline back to 1350. Overall, gold prices could stay flat within 1375 and 12350 in the near term with the support at 1327.50 likely to be tested on a downside breakout.
Source: Orbex Forex Broker (Review and Forex Rebates Up to 85%)
---
Categories :
---
Tags :
EURUSD Daily Analysis
forex bonus without deposit
Forex Broker
forex broker bonus
forex learn
forex learning
forex learning pdf
Forex Market
forex tutorials for beginners pdf
GBPUSD Daily Analysis
Gold Daily Analysis
how to trade forex for beginners pdf
learning forex trading pdf
XAUUSD
---