Daily Forex Market Preview  – The US dollar continued to chug along higher yesterday with the December futures contracts posting a 52-week high at 100.24. The dollar index is familiar with the 100 level which has been a psychological barrier that the greenback has failed to break convincingly since 2015, in three attempts (counting yesterday) so far.
The resurgence of bond yields, especially on the 2-year and 10-year, has added to the market conviction that the Fed rate hike is just around the corner, while at the same time, the president-elect Trump prepares to take office in January while also boosting prospects for infrastructure spending among other things seen as a fiscal stimulus package. But for now, US retail sales numbers will be the focus of the day with forecasts showing a 0.5% and 0.6% increase on the core and headline numbers respectively.
EURUSD Intra-day Analysis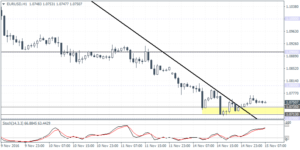 EURUSD (1.0750): EURUSD touched down to an 11-month low yesterday, briefly breaking below December 2015 lows to test the waters at 1.0708 before pulling back to close the day at 1.0737. Price action is currently seen finding the support of the lower median line and any upside momentum could see EURUSD retesting 1.0900 price level to establish resistance.
On the 1-hour chart time frame, minor support is seen being established at 1.0735 – 1.0713. If EURUSD manages to post a rebound off this support level, it will validate the move to the upside towards 1.0900. A close below the support at 1.0700 could see EURUSD extend its declines down to 1.0600.
EUR/USD Intraday: under pressure.
Pivot: 1.0810
Our preference: short positions below 1.0810 with targets at 1.0710 & 1.0670 in extension.
Alternative scenario: above 1.0810 look for further upside with 1.0865 & 1.0920 as targets.
Comment: the RSI is mixed to bearish.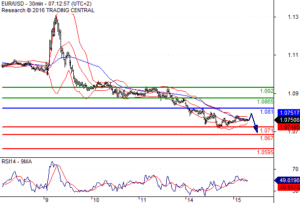 USDJPY Daily Analysis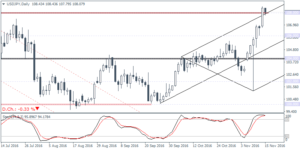 USDJPY (108.07): USDJPY's gains saw price reaching 108.00 resistance yesterday but the daily time frame Stochastics shows a hidden bearish divergence at this resistance level. Following the strong breakout from 104.00 price level which previously acted as resistance, USDJPY could be seen falling back to this level to establish support.
Ahead of the correction to 104.00, USDJPY could post a modest rebound of 106.00 as price action could remain range bound within 108.00 and 106.00 in the near term before we can expect to see a decline towards 104.00.
EURGBP Intra-day Analysis.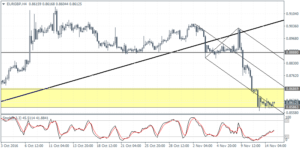 EURGBP (0.8612): After breaking down below 0.8888, EURGBP's declines were seen limited to the lower support level near 0.8687 – 0.8586. We also notice a hidden bullish divergence at this level which could indicate a near-term correction, most likely back to the broken support at 0.8888 where resistance could be established.
Price action remains flat for the moment, but watch for a breakout above 0.8635, which could signal the start of the correction to the upside. Alternately, if EURGBP breaks out below 0.8586 further declines could be seen coming as the price is likely to test 0.8500.
EUR/GBP Intraday: key resistance at 0.8655.
Pivot: 0.8655
Our preference: short positions below 0.8655 with targets at 0.8565 & 0.8485 in extension.
Alternative scenario: above 0.8655 look for further upside with 0.8695 & 0.8770 as targets.
Comment: the RSI lacks upward momentum.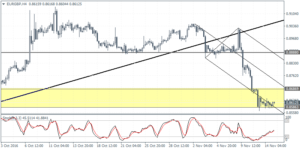 Source: Orbex Forex Broker -Review and Forex Rebates Up to 85%
---
Categories :
---
Tags :
EUR/GBP Intraday
EUR/USD Intraday
EURGBP Intra-day Analysis
US retail sales numbers
USDJPY Daily Analysis
---