Daily Forex Market Preview – OPEC meeting – Today is all about oil prices, which were particularly nervous yesterday ahead of the today's formal meeting of OPEC members in Vienna. The desire to cut production appears to be there, but it's all about how it is delivered, with some members more flexible than others. The oil price will remain volatile on this last day of the month.
Talk is that they want to freeze production around 32.5m to 33m barrels per day. If we see something towards the lower end or below that range, then oil prices will rise as a result.
Beyond oil, it's about the correction we've seen on the dollar. The factors that have pinned its rally largely remain in place, but it's not surprising that we're seeing some correction given the extent of one-way traffic on the currency. So far today we've seen a fairly steady tone emerge during the Asia session, the dollar index marginally firmer after what has been four days of corrective activity.
Attention is turning more strongly to the euro ahead of the weekend referendum in Italy on constitutional reform, which could see greater political instability emerge in the coming days and weeks should the Italian PM not get his way.
The result is priced in to a fair degree, so the single currency is not going to fall out of bed as a result, but it has the potential to eat away at sentiment over the coming weeks. Before then, it's Friday's US jobs numbers that are the main focus, but volatility potential is lowered by the fact that a December rate hike is priced in and it's expectation on fiscal policy that have been driving the dollar higher.
| | |
| --- | --- |
| Today's important market news | Time: GMT |
| | | | |
| --- | --- | --- | --- |
| | 10:00 | | OPEC meeting |
| | 10:00 | | Consumer Price Index (YoY) |
| | 10:00 | | Consumer Price Index – Core (YoY) |
| | 12:30 | | ECB President Draghi's Speech |
| | 13:15 | | ADP Employment Change |
| | 13:30 | | Personal Income (MoM) |
| | 13:30 | | Core Personal Consumption Expenditure – Price Index (MoM) |
| | 13:30 | | Personal Consumption Expenditures – Price Index (YoY) |
| | 13:30 | | Personal Spending |
| | 13:30 | | Personal Consumption Expenditures – Price Index (MoM) |
| | 13:30 | | Core Personal Consumption Expenditure – Price Index (YoY) |
| | 13:30 | | Gross Domestic Product Annualized (QoQ) |
| | 13:30 | | Gross Domestic Product (MoM) |
| | 14:45 | | Chicago Purchasing Managers' Index |
| | 15:00 | | Pending Home Sales (YoY) |
| | 15:00 | | Pending Home Sales (MoM) |
| | 16:00 | | German Buba President Weidmann speech |
| | 19:00 | | Fed's Beige Book |
| | 22:30 | | AiG Performance of Mfg Index |
| | 23:50 | | Foreign bond investment |
| | 23:50 | | Foreign investment in Japan stocks |
Doubts on OPEC deal keep markets on the edge
The OPEC meeting in Vienna is due today, and the markets are unsure on the outcome of the meeting. After what seemed like positive news following the information agreement in Algiers, the increase in production levels since October and the continuing disagreement between Saudi Arabia, Iran and Iraq has left investors doubtful if OPEC will manage to agree on production cuts. A larger than expected cut is essential for oil prices to make any meaningful gains and a "no-agreement" could potentially send oil prices lower.
Crude Oil (WTI) Intra-day Analysis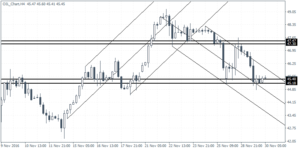 CL (45.45): Crude oil futures for January delivery is seen currently at the support level of 45.40 – 45.18 which marks the measured move of the previous descending triangle pattern. Prices initially rallied back to retest the broken support of descending triangle at 47.47 – 47.30 to establish resistance and is seen back at the lower support.
On the 4-hour chart, oil prices can be seen ranging between the mentioned support and resistance levels and a breakout above or below these price levels will signal further continuation. The technical outlook for crude oil remains indecisive, perhaps aptly reflecting the trader's outlook on the outcome of today's OPEC meeting.
EURUSD Intra-day Analysis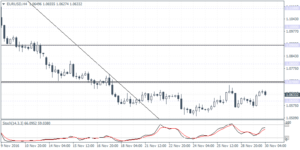 EURUSD (1.0633): EURUSD has been consolidation near 1.0600 region following the doji candlestick last week and closed with an inside bar yesterday.
On the 4-hour chart, the price is showing signs of a potential test towards 1.0600 to establish support following which further upside can be expected. If the support holds, EURUSD could be seen rising 1.0700 which marks the initial resistance level followed by further upside if price manages to breach this level.
The unfilled gap at 1.08550 remains a likely price level of interest to the upside.
USDCAD Intra-day Analysis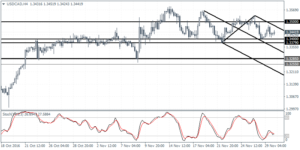 USDCAD (1.3441): USDCAD continues to consolidate within 1.3500 – 1.3400 region, but the upside is likely to stall in the near term. Watch for a potential breakout below 1.3400 – 1.3379 support level which could potentially signal further downside in the U.S. dollar.
The next main support comes in at 1.3285 which could be tested thereafter. To the upside, a move back to 1.3500 and a close above this resistance level will signal further upside and invalidate any bearish hints of a correction.
AUD News and Analysis
The Australian dollar held steady against its U.S. counterpart on today, after the release of downbeat Australian housing sector data, while the New Zealand dollar moved higher despite a disappointing report on business confidence.
AUDUSD was little changed at 0.7480.
The Australian Bureau of Statistics earlier reported that building approvals dropped 12.6% in October, confounding expectations for a 1.5% gain.
Building approvals declined by 9.3% in September, whose figure was revised from a previously estimated 8.7% slide.
NZDUSD rose 0.22% to trade at 0.7144, the highest since November 11.
Data also showed that the ANZ business confidence index for New Zealand slipped to 20.5 this month from a reading of 24.5 in October.
Meanwhile, the greenback still remained supported by expectations that increased fiscal spending and tax cuts under the Trump administration will spur economic growth and inflation.
Expectations that the Federal Reserve will raise interest rates at its December policy meeting also continued to underpin the U.S. dollar.
The U.S. dollar index, which measures the greenback's strength against a trade-weighted basket of six major currencies, was up 0.19% at 101.18, still close to recent 14-year highs of 102.12.
Source:
---
Categories :
---
Tags :
AUD News and Analysis
Core Personal Consumption Expenditure - Price Index (YoY)
Crude Oil (WTI) Intra-day Analysis
Daily Forex Market Preview
Daily Forex Market Preview - OPEC meeting
ECB President Draghi's Speech
EURUSD Intra-day Analysis
German Buba President Weidmann speech
Personal Consumption Expenditures - Price Index (MoM)
---