Daily Forex News – Markets traded lower overnight as risk sentiment was dealt a blow by US President Trump who said that he was not pleased with how the talks with China went and that he was "not satisfied". He also said that there was a "substantial chance" that the summit with North Korea in June "would not work out". This led to a fall in US Indices, which had been trading higher for the day, and a rebound higher in the USD.
The USDCAD pair moved up from 1.27417 lows to currently trade around 1.28530. EURUSD and GBPUSD fell to support yesterday and are trading lower this morning due to the negative comments. The FOMC Minutes will be released this evening with the gradual normalisation policy expected to be supported, and a growing confidence that the pace of the path forward is correct and robust enough to weather variation in the data particularly inflation. The Turkish Lira was sold heavily overnight with USDTRY currently up 2.44% to 4.78570 ahead of elections and continued upward pressure on Oil.
UK Public Sector Net Borrowing (Apr) came in at £6.230B against an expected £7.000B from a previous £-0.262B which was revised down to £-0.811B. This shows a surplus in the figures for April. The surpluses have been decreasing and trending down since peaking in 2010. GBPUSD fell from 1.34804 to 1.34544 after this data release.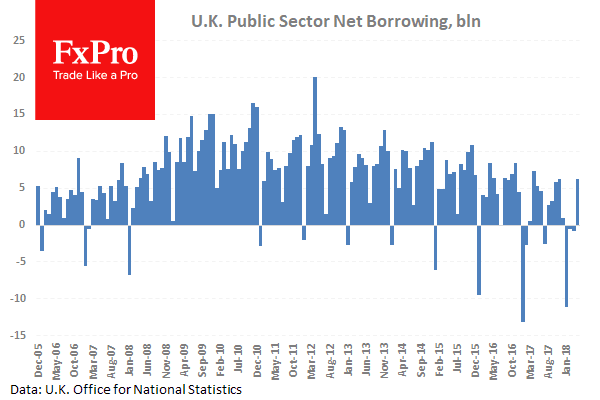 Canadian Whole Sales (MoM) (Mar) was released coming in at 1.1% against an expected reading of 0.6% from -0.8% previously which was revised down to -0.4%. This data shows that there was a recovery in this reading with the previous data revised higher. USDCAD traded up to a high of 1.27774, then down to 1.27417 after the data release.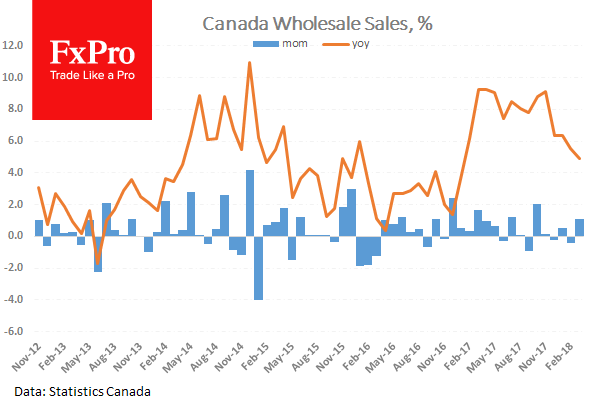 API Weekly Crude Oil Stock data was released and showed a draw of -1.300M. Last week this data showed a build of 4.854M. With Oil prices back to 2014 levels any indication of price movement will be closely watched. Traders will take note of this data ahead of EIA Survey data on Wednesday. WTI Oil traded up to a high of $72.84 after this event before selling off.
EURUSD is down -0.11% overnight, trading around 1.17654.
USDJPY is down -0.35% in the early session, trading at around 110.502
GBPUSD is down -0.16% this morning trading around 1.34068.
USDCAD is up 0.28% overnight, trading around 1.28535
Gold is down -0.07% in early morning trading at around $1,290.20
WTI is down -0.32% this morning, trading around $71.90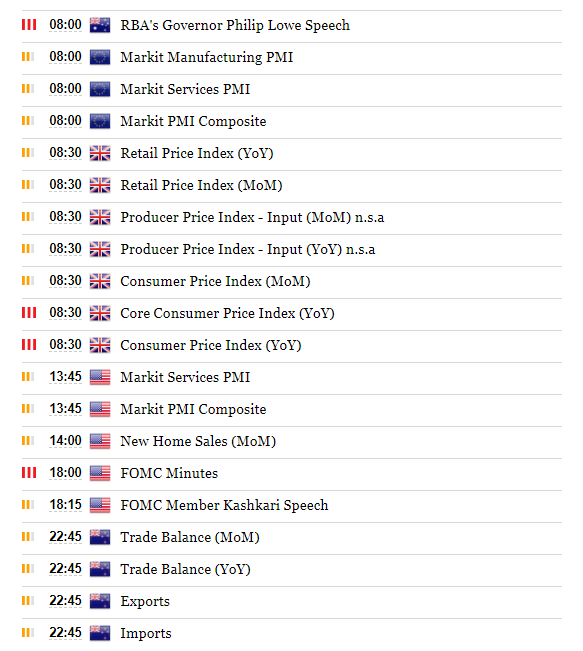 Source: Fxpro Forex Broker
---
Categories :
---
Tags :
Daily Forex News
---