Sterling suffered downward pressure on Tuesday as the latest monthly report from the British Retail Consortium showed non-food sales slumping in October to the lowest levels in 5 years. Total sales crept up 0.2% from a year earlier, like-for-like sales slipped 1%, a reversal from the 1.9% rise in September. British consumers continue to experience a squeeze on their incomes as wage growth is behind inflation, driven by the continued weakness in GBP following the Brexit vote in 2016.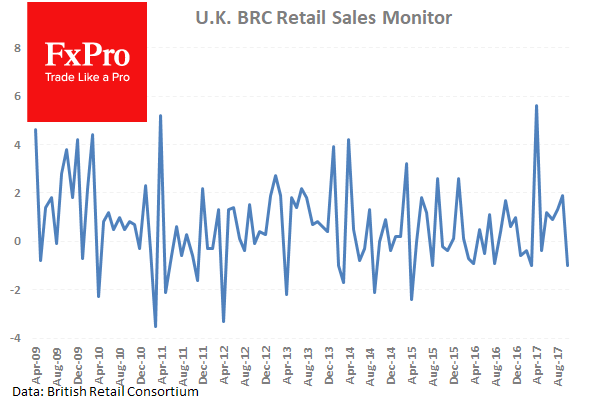 More pressure was added on GBP following the release of a poll, conducted by ORB International for The Telegraph, that showed public confidence in Prime Minister May's ability to deliver a strong Brexit had fallen to a record low. 66% of those polled disapprove of the way the Government is handling negotiations with the EU. Prior to the snap election in June, the percentage of disapprovers stood at 45%. The poll also suggested that public confidence in Prime Minister May has fallen sharply with only 26% believing she will "get the right deal for Britain in the Brexit negotiations" – in June this stood at 44%. With several key members of the Conservative Party suffering suspensions, due to sexual harassment allegations, and Foreign Secretary Boris Johnson damaging international relations following his recent remarks concerning the imprisonment of a British dual national in Iran, many are wondering if Theresa May's tenure as Prime Minister may be near its end.
In the US, reports are circulating that Senate Republican leaders are considering a 1-year delay in the implementation of a major corporate tax cut to comply with Senate rules. USD had seen a recent improvement against its peers on expectations that President Trump's Administration would deliver on their pledge to reduce taxes, which would help economic growth and lift interest rates. With the prospect of delays, USD will lose much of its appeal and could give back its recent gains.
EURUSD is 0.12% lower in early Wednesday trading at around 1.1600.
USDJPY is 0.2% lower in early session trading at around 113.75.
GBPUSD is little unchanged in early trading at around 1.3172.
Gold is 0.25% higher, trading around $1,278.50.
WTI is little changed overnight, currently trading around $57.15.
Major data releases for today:
At 08:00 GMT, the European Central Bank is scheduled to hold a non-monetary policy meeting in Frankfurt, Germany.
At 13:15 GMT, the Canadian Mortgage and Housing Corporation will release Housing Starts (YoY) for October. The forecast is calling for 210K new homes constructed against the previous release of 217.1K. We can expect to see CAD volatility if the release is significantly different from expectations.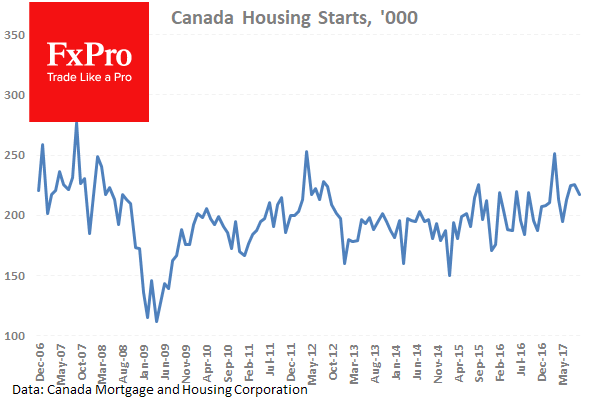 At 15:30, The US Energy Information Administration will release Crude Oil Stocks change for the week ended November 3rd. The forecast is for another draw of -2.8M compared to the previous draw of -2.435M. The EIA report never fails to cause volatility in both WTI and Brent, especially if the release is wildly different from expectations.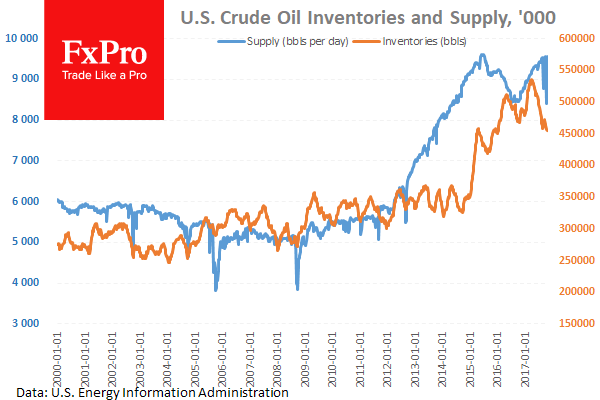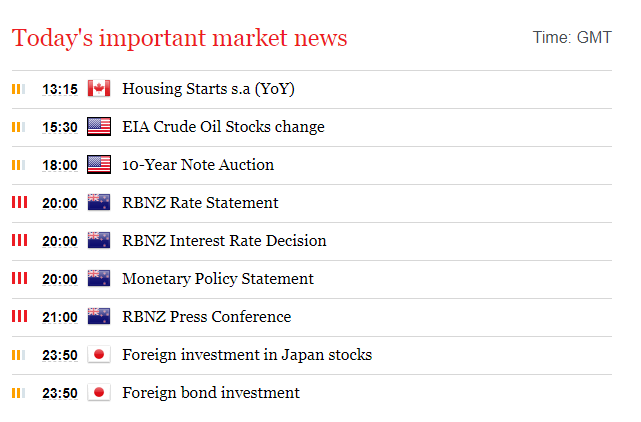 Source: Fxpro Forex Broker
Fxpro Forex Broker Review and Details
---
Categories :
---
Tags :
EIA report
Housing Starts (YoY)
US Energy Information
---