UK Consumer Price Index (CPI) data was released on Tuesday showing inflation easing for the first time in nearly 10 months, retreating from the near 4-year high touched in May, as fuel prices fell substantially in the UK in June. The consumer price index increased by an annual rate of 2.6% in June, falling below the consensus forecast of 2.9%, and below the 2.9% rise recorded in May. UK inflation is above the BoE's 2.0% target for the 5th straight month, but the slowdown in the rate of inflation is likely to dull calls from some of the UK Monetary Policy Committee members for a near-term hike in UK interest rates.
USD fell back to an 11-month low against many of its G-10 counterparts as President Trump's economic revitalization agenda stumbled with his health care reform bill "dead in the water", as 2 more of his own party's Senators announced their opposition to the plan.
EUR gained nearly 1% on the day versus USD as EURUSD reached a high of 1.15828, levels not seen for over 1 year. The market is cautious of pushing EURUSD too high for fear that the European Central Bank policy meeting on Thursday proves less hawkish than the bulls are hoping for. Currently, EURUSD is trading around 1.1535.
GBP fared poorly against overall USD weakness as CPI data showed UK inflation falling in June. GBPUSD traded down as the data was released, moving from the day's high of 1.31251 to trade as low as 1.30044 on the day. Currently, GBPUSD is trading around 1.3040.
The USD bears were seen in USDJPY as the USD sell-off saw the pair back off from early highs of 112.618, to give up 0.7% on the day to trade as low as 111.681. The Bank of Japan is expected to keep economic policy unchanged at its scheduled meeting on Thursday. Currently, USDJPY is trading around 112.15.
AUDUSD improved over 1.8% on the day as a resolute Reserve Bank of Australia stated it isn't ready to join global Central Banks in reducing policy stimulus. AUDUSD traded off early lows of 0.77859 to trade up to a new 2 year high of 0.79424 on the day. Currently, AUDUSD is trading around 0.7930.
Ahead of today's EIA report on US Oil Inventories WTI has also benefitted from USD weakness, trading from $46.02pb to a high on the day of $47.12pb. The US EIA Inventories data releasing today will likely cause significant volatility in Oil. WTI is currently trading around $46.50pb.
Gold gained 0.7% on the day to trade as high as $1,243.30, a level not seen since the start of July. Currently, Gold is trading around $1,241.
At 13:30 BST US Housing Starts (MoM) (Jun) will be released. The consensus is for an improvement to 1.150 Million from the previous reading of 1.092 Million. An improved number will be seen as vindication that the US economy is growing, amid recent mixed economic data releases.
At 15:30 BST the United States Energy Information Administration (EIA) will release the EIA Crude Oil Stocks change (Jul 14). The previous drawdown of -7.5645 Million is expected to improve to a drawdown of -3.740 Million.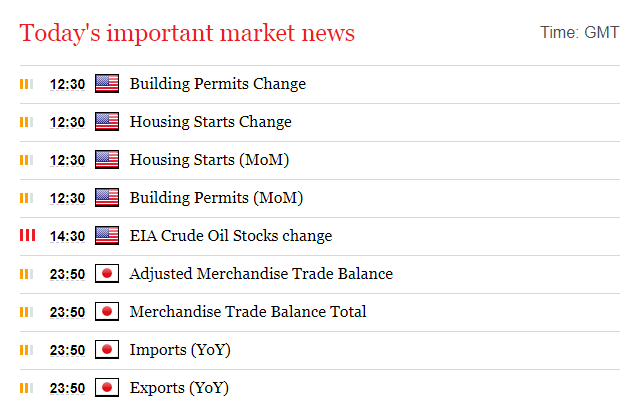 Source: Fxpro Forex Broker 
Fxpro Forex Broker details and Review
---
Categories :
---
Tags :
Bank of Australia
Dollar Analysis
UK Consumer Price Index (CPI)
UK Monetary Policy Committee members
---