Dollar gaps lower amid a quiet trading day – The dollar index gapped lower this morning with the upcoming OPEC meeting coming up as the main event risk that could keep market sentiment subdued. The economic calendar is relatively quiet today with the exception of a speech by Mario Draghi.
The dollar index shows signs of a pullback which could see a much needed correction in prices. However, with the payrolls report on schedule for Friday the risk of a pullback being shallower than expected could be a surprise.
EURUSD Intra-day Analysis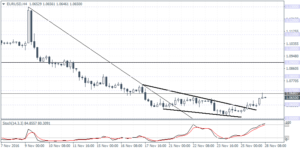 EURUSD (1.0650): A bullish close today on the EURUSD could signal the much needed correction, although traders will remain cautious of the prevailing downtrend. Immediate resistance is seen at 1.0765 with the potential to correct towards 1.0900 in the near term.
To the downside, while EURUSD looks to have carved a temporary bottom, the risks to the downside to test 1.0500 remains very much a possibility. On the 4-hour chart price action is showing signs of exhaustion after prices were rejected near 1.0680. A temporary pullback will see EURUSD likely retest 1.0600 price level to establish support ahead of further gains.
Pivot: 1.0580
Our preference: long positions above 1.0580 with targets at 1.0685 & 1.0715 in extension.
Alternative scenario: below 1.0580 look for further downside with 1.0540 & 1.0515 as targets.
Comment: the RSI shows upside momentum.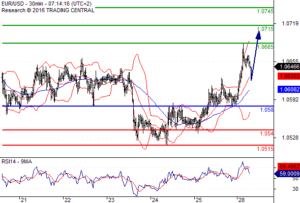 USDJPY Intra-day Analysis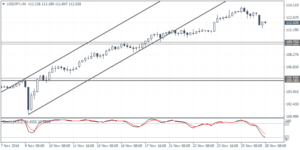 USDJPY (112.02): USDJPY's doji close on Friday will signal a near-term correction towards the 108.00 support if provided we see a bearish close today. Price could show some upside momentum for a test to 114.00 resistance level which remains a possibility.
However, failure to rally to 114.00 with a bearish close today below 112.00 could see USDJPY test the support near 108.00 and a breakdown below this level could send the dollar lower towards 104.00. On the 4-hour chart, watch for price to make a lower high if price rebounds ahead of a test towards the initial short-term support at 109.75 – 109.50.
XAUUSD Intra-day Analysis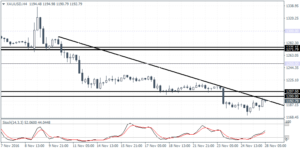 XAUUSD (1192.79): Gold formed a doji outside a bar on Friday and is currently seen attempting to push higher. Resistance at 1200 could keep prices subdued in the near term, but a breakout above 1200 could extend gains to as much as 1250. Regardless, a bullish close above Friday's high of 1193.33 is required to see any potential for a corrective move.
On the 4-hour chart, the price is currently seen testing the falling trend line support while the resistance zone of 1207.50 – 1200.00 remains within reach. Look for gold prices to break out above this level which will signal further upside to 1250.00.
Gold spot Intraday: further upside.
Pivot: 1179.00
Our preference: long positions above 1179.00 with targets at 1202.70 & 1209.00 in extension.
Alternative scenario: below 1179.00 look for further downside with 1171.00 & 1166.00 as targets.
Comment: the RSI is mixed to bullish.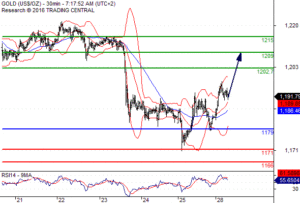 Source : Orbex Forex Broker -Review and Forex Rebates Up to 85%
---
Categories :
---
Tags :
Dollar gaps lower amid a quiet trading day
EURUSD Intra-day Analysis
Gold spot Intraday
https://www.pipsafe.com/Broker-Details/?broker=Orbex-LIMITED
USDJPY Intra-day Analysis
XAUUSD Intra-day Analysis
---