Dollar jumps on FBI comments – Following Friday's initial reaction to the October payrolls, the markets gave back the gains as the risk aversion mode prevailed. The VIX, volatility index remained at a 4-month high by Friday's close. Earlier today, the US dollar opened the week gapping higher after the FBI announced that there was no new evidence to warrant charges against Hillary Clinton. The dollar surged on the news, reversing off Friday's closing prices at 96.92.
A daily close above 97.62 resistance level could signal further upside in the US dollar back towards the 98.00 handle. On the same note, failure to clear the resistance could signal further downside as the US dollar index could be seen testing the next support at 96.00 – 96.30.
EURUSD Daily Analysis (EUR/USD Technical Analysis and News)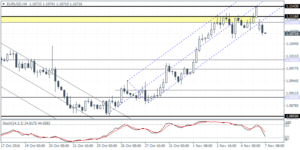 EURUSD (1.1071): EURUSD closed on Friday just a few pips off 1.1143 resistance level. Price gapped lower in today's session in what could be the start of a correction to the rally since late October. Support at 1.1000 – 1.0975 will be the initial price level that could be challenged followed by 10922 – 1.0900. The Stochastics Oscillator on the daily chart points to the hidden bearish divergence, while on the 4-hour chart, the Stochastics has printed a bearish divergence confirming the declines to 1.09220.
EUR/USD Intraday: under pressure.
Pivot: 1.1110
Our preference: short positions below 1.1110 with targets at 1.1055 & 1.1025 in extension.
Alternative scenario: above 1.1110 look for further upside with 1.1145 & 1.1180 as targets.
Comment: a break below 1.1055 would trigger a drop towards 1.1025.
USDJPY Daily Analysis (USD/JPY Technical Analysis and News)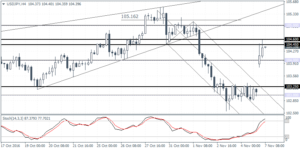 USDJPY (104.39): USDJPY gapped higher following Friday's inside bar formation with price seen testing 104.60 – 104.45 resistance level. Failure to breakout above this resistance level could signal a retest back to 103.25 to fill the gap. On the 4-hour chart, the Stochastics shows a hidden bearish divergence, signaling a near-term decline.
Short term support is seen at 104.00, and only a breakdown below this support will trigger further selling which could send the dollar back towards 103.25 which is now a clear support level that has been formed.
XAUUSD Daily Analysis (XAUUSD Technical Analysis and News)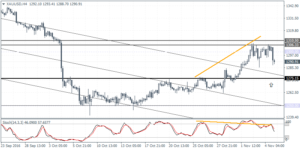 XAUUSD (1290.91): Gold prices are currently bearish following last week's rally to 1300.00. The bearish divergence on the 4-hour chart continues to show that price could correct down to 1275.15 – 1275.00 support level. Gold prices could remain range bound within 1300 and 1275 price levels with a breakout from either of these levels signaling further near term continuation of the trend. Above 1300, look for gold to challenge 1315 – 1320 resistance level while to the downside, a breakout down below 1275 could send gold prices back towards 1250 support.
Gold spot Intraday: the bias remains bullish.
Pivot: 1285.00
Our preference: long positions above 1285.00 with targets at 1303.50 & 1310.00 in extension.
Alternative scenario: below 1285.00 look for further downside with 1279.00 & 1271.00 as targets.
Comment: a support base at 1285.00 has formed and has allowed for a temporary stabilisation.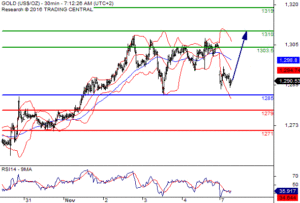 Source: Orbex Forex Broker (Review and Forex Rebates by PipSafe)
---
Categories :
---
Tags :
Dollar jumps on FBI comments
EUR/USD Intraday
EUR/USD Technical Analysis and News
EURUSD Daily Analysis
Forex Market Analysis
Orbex Forex Broker (Review and Forex Rebates by PipSafe)
USD/JPY Technical Analysis and News
USDJPY Daily Analysis
XAUUSD Daily Analysis
XAUUSD Technical Analysis and News
---