European Council Summit, US Consumer Confidence, SNB & Fed Speeches – Again, the data – mostly second-tier – is likely to take a back seat to developments in Britain and Brussels.The EU Parliament will vote on a resolution analyzing the outcome of the UK referendum and ways forward. German Chancellor Angela Merkel will give a policy speech on the future of the EU and its ties with Britain. Finally, the EU's leaders start a two-day European Council summit to discuss the decision. Any comments or indications about the future relations between the EU and Britain will be closely watched, both for indications about how they will affect Britain and also what they portend for other EU countries where voters might be contemplating a similar move. The big fear is that not only is this move likely to mean the break-up of the UK, it might also be the start of the break-up of the EU.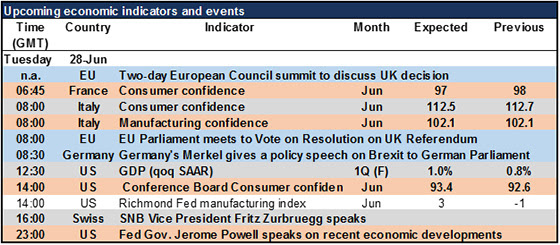 Against that dramatic background, one wonders whether French and Italian consumer confidence is really that important. Whatever it was in June, there's a good chance it's going to be lower in July.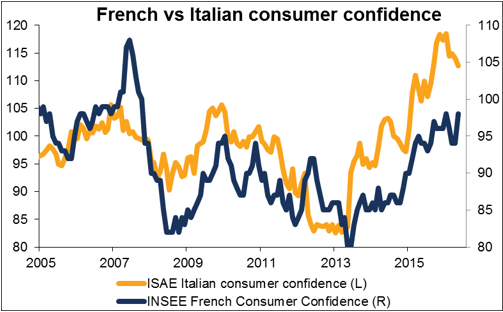 Similarly, US Q1 GDP is expected to be revised up further. It was initially reported as +0.5%, then revised up to +0.8%, and is now expected to be revised up further to +1.0%. But with Q2 now drawing to a close, Q1 is of more academic interest; market attention has shifted to forecasts for Q2. The Atlanta Fed's GDPNow model forecasts 2.6% growth for Q2, while the New York Fed's Nowcasting Report says 2.1%.
The US Conference Board's Consumer Confidence index for June is forecast to rise, even though the U of Michigan's consumer confidence index for the same month fell. Following the collapse in hiring in the May nonfarm payroll report, the market will also be keen to see the jobs plentiful/hard-to-get component of this index. That index was slightly weaker in May but nothing like the huge downturn in hiring reflected in the payrolls. If the jobs index improves, USD could stand to gain (assuming anyone is paying attention to such things still).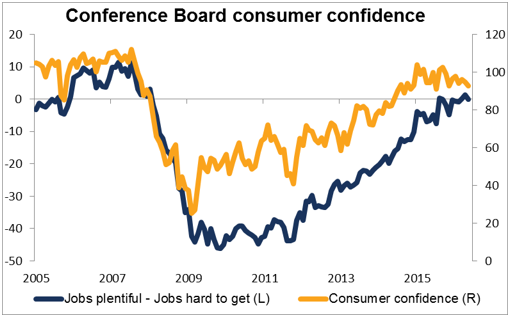 Source: Fxprimus Forex Broker (Review and Forex Rebates Up to 85%)
---
Categories :
---
Tags :
European Council Summit
forex bonus without deposit
Forex Broker
forex broker bonus
forex learn
forex learning
forex learning pdf
forex tutorials for beginners pdf
FXPRIMUS Forex Broker
how to trade forex for beginners pdf
learning forex trading pdf
SNB & Fed Speeches
US consumer confidence
---