Data released on Monday indicates that the Eurozone economy is on target to close out 2017 strongly. The latest Markit composite PMI fell to 56.0 in October, slightly lower than the previous months reading of 56.7, but well above the key 50 zone indicating positive sentiment for growth. PMI data showed the 2 largest economies, Germany and France, have remained strong. Not all PMI data was positive, as Italian growth slowed and Spain saw its mainstay services sector falling to its lowest level in 9 months.
The decline in sentiment in Spain is not surprising given the political crisis that has developed following the Catalonian referendum, with many businesses concerned for their future. An investor sentiment index, released by Sentix, indicated that sentiment has grown to a level not seen in over 10 years – all attributed to a growing economy. With robust economic growth, which is likely to create upward inflationary pressure, the ECB's recent decision to finally scale back Quantitative Easing can only help in accelerating Eurozone growth.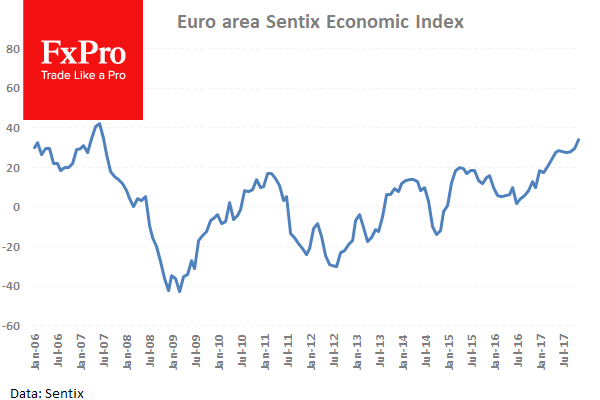 Earlier this morning, the Reserve Bank of Australia left interest rates unchanged (as expected) at 1.5%, for the 15th month in a row. RBA Governor Philip Lowe said the board expects the current low inflation rate to gradually lift as economic growth improves, stating; "Inflation remains low, with both CPI and underlying inflation running a little below 2%". The markets are now looking ahead to the RBA's latest quarterly outlook report (the November Statement on Monetary Policy), due on Friday, which might prove to be more insightful about future policy than today's interest rate decision. The report is not expected to have changes for growth and inflation forecasts. However, AUD could see volatility if there are any significant changes to the inflation picture, specifically if the report indicates any possible delays to the timing of a rate hike.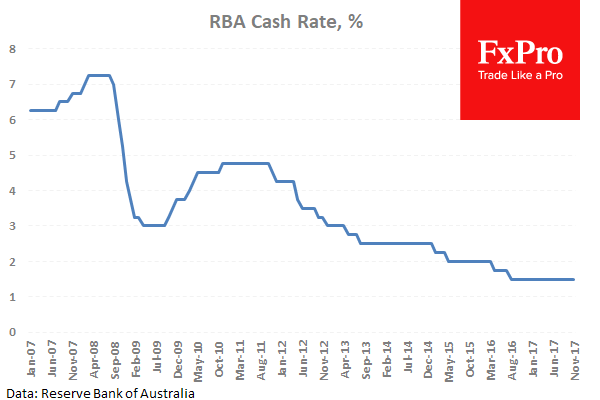 EURUSD is unchanged in early Tuesday trading at around 1.1608.
USDJPY is 0.25% higher to currently trade around 114.00.
GBPUSD is little changed overnight, currently trading around 1.3170.
Gold is 0.2% lower in early session trading at around $1,279.50.
WTI is 0.16% higher, trading at around $57.50.
Major data releases for today:
At 15:00 GMT, the UK National Institute of Economic and Social Research will release a 3-month estimate for UK GDP (August to October). The report is released 1 month ahead of the official GDP report and has been known to be highly accurate.
At 19:00 GMT, Bank of Canada Governor Stephen Poloz will be speaking before the CFA Montreal and the Montreal Council on Foreign Relations on the topic of Central banks' ability to understand inflation. Any hints to future Canadian Monetary Policy will see volatility in CAD.

Source: Fxpro Forex Broker
Fxpro Forex Broker Review and Details
---
Categories :
---
Tags :
eurozone economy
PMI
PMI data
---