The markets are little changed overnight as they await the outcome of the 2-day Federal Reserve meeting that ends today. Many will be focusing on the Fed's description of inflation in their policy statement as the US is confronted with tepid inflation well below the Fed's target of 2%. A change in economic policy will signal the likelihood of rate hikes before the end of the year. Many are expecting a rate hike in December, with the CME FedWatch tool showing the likelihood of a December hike rising to 50% from 31% earlier this month. With an unlikely rate hike today the markets will be eager to learn when the Fed will start reducing its burgeoning asset portfolio. Many expect the reduction to start in October. With over $4 trillion in holdings, the reductions will take considerable time as the Fed needs to ensure a gradual and steady paring of its massive portfolio.
The markets had little reaction to President Trumps' address to the United Nations General Assembly yesterday. There was no surprise in his comments, and derision, against Iran and North Korea. There was no dramatic move to a risk-off sentiment even with the strong terms he used "The United States has great strength and patience, but if it is forced to defend itself or its allies, we will have no choice but to totally destroy North Korea," and calling Kim Jong-un a "Rocket man on a suicide mission". Aside from the North Korean UN delegation walking out prior to Trump's address, there has been no reaction, yet, from Pyongyang. The markets expect further rhetoric to come.
EURUSD has climbed overnight, once again breaching 1.20 to trade as high as 1.2019 in early trading. Currently, EURUSD is trading around 1.2005.
USDJPY remains firm, currently trading around 111.45.
GBPUSD improved overnight to currently trade around 1.3520.
Gold is little changed, currently trading around $1,313.
WTI is holding firm, trading around $50.32pb.
Major economic data releases for today:
At 08:00 BST, there will be a Eurozone Non-monetary policy ECB meeting in Frankfurt. The Governing Council of the European Central Bank (ECB) publishes a survey of the non-monetary decisions made in the previous meeting.
At 09:30 BST, UK National Statistics will release Retail Sales (MoM & YoY) for August along with Retail Sales ex-Fuel for the same periods. Retails Sales Year-on-Year are forecast to come in at 1.1%, which is a slight improvement on the previous release of 1.3%.
At 19:00 BST, the Board of Governors of the Federal Reserve will announce the Fed Interest Rate Decision. The market is not expecting any rate hike until December at the earliest.
At 19:30 BST, the FOMC will begin the scheduled Press Conference. Markets are looking for clues as to upcoming monetary policy. The unscripted Q&A session often results in USD volatility so traders beware!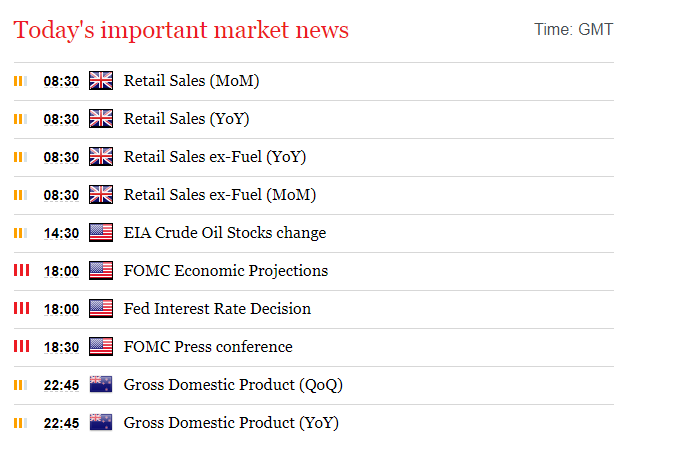 Source: Fxpro Forex Broker
Fxpro Forex Broker Review and Details
---
Categories :
---
Tags :
ECB meeting in Frankfurt
Federal Reserve meeting
---