FOMC meeting minutes – With the Fed funds rate hike probability now assigning a full 100% probability for a rate hike in December, today's FOMC meeting minutes could be a non-event. After various Fed member speeches post US elections and more importantly the Fed Chair, Janet Yellen's testimony to Congress, the meeting minutes for the November FOMC meeting will at best ascertain the rate hike views unless members explicitly highlight concerns in a particular segment of the US economy. The US dollar index closed bullish after a bearish reversal on Monday, but still no clear signs of a pullback to the rally.
EURUSD Intra-day Analysis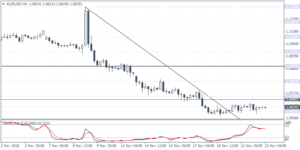 EURUSD (1.0629): EURUSD closed with a doji yesterday, but prices remain stuck near the 1.0600 handle. The flat price action after the falling trend line was broken a few days ago is likely to remain flat unless there is a strong upside breakout above 1.0680.
We continue to look at the possibility of a corrective rally towards 1.0900 which could see renewed selling pressure retake the currency pair. Alternately, the downside is currently supported by a fragile support at 1.0500, which if breaks could see further trend continuation.
EUR/USD Intraday: the bias remains bullish.
Pivot: 1.0565
Our preference: long positions above 1.0565 with targets at 1.0660 & 1.0710 in extension.
Alternative scenario: below 1.0565 look for further downside with 1.0510 & 1.0460 as targets.
Comment: the RSI is around its neutrality area at 50%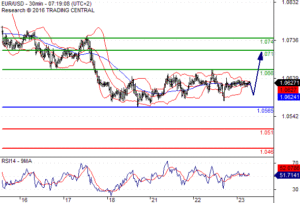 GBPUSD Intra-day Analysis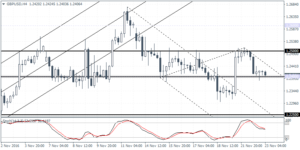 GBPUSD (1.2406): GBPUSD continues to range within the 1.2500 and 1.2400 price levels, but the bias is increasing to the downside. On the 4-hour chart, the price is currently bearish following the doji pattern above 1.2400.
A bearish close here could signal near-term weakness which could push GBPUSD lower towards 1.2250 – 1.2224 support. To the upside, short term resistance is seen at 1.2500, and only a convincing break above this resistance could signal further gains in store.
GBP/USD Intraday: under pressure.
Pivot: 1.2465
Our preference: short positions below 1.2465 with targets at 1.2370 & 1.2300 in extension.
Alternative scenario: above 1.2465 look for further upside with 1.2515 & 1.2555 as targets.
Comment: the RSI is mixed to bearish.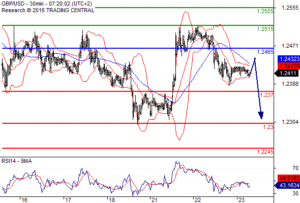 USDCAD Intra-day Analysis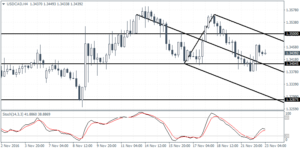 USDCAD (1.3439): USDCAD turned bullish yesterday after the mixed retail sales figures. Price posted a strong reversal off 1.3380, and further upside could see the dollar post gains towards 1.3500. With the OPEC meeting now just a week away, USDCAD could be under pressure.
The daily chart time frame shows bearish indications that could see price eventually fall towards 1.3287. Therefore, look for resistance to be established at 1.3500 ahead of a renewed bearish momentum in USDCAD.
USD/CAD Intraday: the upside prevails.
Pivot: 1.3375
Our preference: long positions above 1.3375 with targets at 1.3465 & 1.3490 in extension.
Alternative scenario: below 1.3375 look for further downside with 1.3350 & 1.3305 as targets.
Comment: the RSI is mixed to bullish.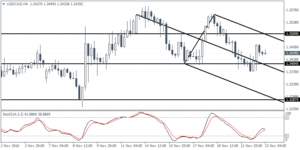 Important News November 23 2016:
| | | | |
| --- | --- | --- | --- |
| Date & Time | Event | Previous | Consensus |
| Nov 23, 15:30 GMT | Initial Jobless Claims | 235K | 250K |
| Nov 23, 15:30 GMT | Durable Goods Orders ex Transportation | 0.10% | 0.20% |
| Nov 23, 15:30 GMT | Durable Goods Orders | -0.30% | 1.50% |
| Nov 23, 17:00 GMT | New Home Sales (MoM) | 0.593M | 0.593M |
| Nov 23, 17:00 GMT | Michigan Consumer Sentiment Index | 91.6 | 91.6 |
| Nov 23, 17:30 GMT | EIA Crude Oil Stocks change | 5.274M | -0.25M |
| Nov 23, 21:00 GMT | FOMC Minutes | | |
Source: Orbex Forex Broker -Review and Forex Rebates Up to 85%
---
Categories :
---
Tags :
EIA Crude Oil Stocks change
EUR/USD Intraday
EURUSD Intra-day Analysis
FOMC meeting
FOMC meeting minutes
GBP/USD Intraday
GBPUSD Intra-day Analysis
Michigan Consumer Sentiment Index
November FOMC meeting
USD/CAD Intraday
USDCAD Intra-day Analysis
---