Forecasts for EUR/USD in 2016 depend on monetary policy divergence
Source: FXPRIMUS Forex Broker(Review and Forex Rebates Up to 85%)
Forecasts for EUR/USD in 2016 depend on monetary policy divergence
Having made fun last week of the market's forecasts for FX rates in 2015, I will now proceed to tell you what the market is forecasting for 2016. You may wonder why this should be of interest to you, since the market's forecast last year was no better than a coin toss. The reason is that while the median forecast may not have a lot going for it, the extremes do have a story to tell. One of those stories may well be right – in which case, you should know what it is. And you most certainly should know what the other story is too so that you can check to make sure you haven't missed any important points.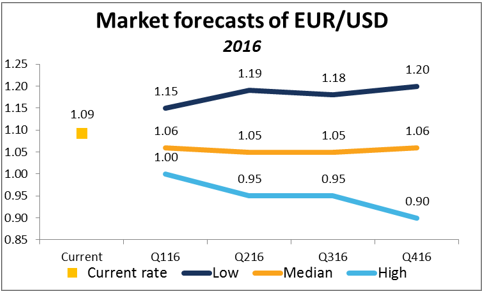 This graph shows the Bloomberg forecasts for EUR/USD. "Low" and "high" refer to the dollar, not the euro. I use this terminology consistently.
As you can see, the median forecast is for very little change, but there are some analysts who expect a larger move -more to the downside than to the upside. The following histogram shows the distribution of forecasts: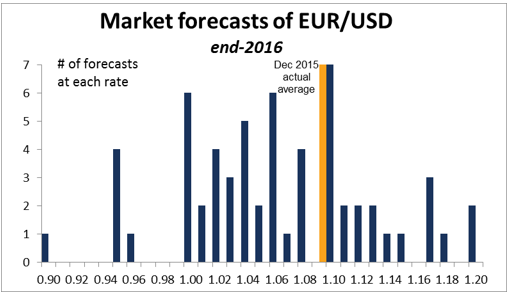 Most forecasts are pretty middle-of-the-road. In fact, the most popular forecast was for almost no change: seven of the 60 analysts forecast EUR/USD would end the year at 1.10, almost unchanged from the average December rate of 1.0899. Six other people forecast 1.06, a 2.7% decline, which is also the median forecast. However, looking at EUR/USD since 2000, on average it's moved 8.5% a year. The biggest move was 20.0% in 2003 and the smallest 1.8% in 2012. In the last 15 years it's only moved less than 2.7% twice, and one of those times it was 2.5%.
---
Categories :
---
Tags :
EURO
euro analysis
EURO News
forex bonus without deposit
Forex Broker
forex broker bonus
forex learn
forex learning
forex learning pdf
forex tutorials for beginners pdf
how to trade forex for beginners pdf
learning forex trading pdf
---