Forex Analysis -Political developments in Japan and the UK saw the respective currencies react in the positive. While the GBP managed to close bullish on news that Theresa May is likely to be the new PM, the Japan elections have boosted hopes for fiscal stimulus and potentially more BoJ easing later this month. The pullback in the risk aversion has kept gold price action subdued, but it is likely to stay range bound within 1350 – 1370 in the near term.
EURUSD Daily Analysis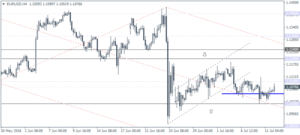 EURUSD (1.107): EURUSD posted a small bodied candlestick pattern yesterday, marking two consecutive days of limited open and close. Prices remain steady above 1.10 support with 1.110 coming into the picture. On the 4-hour chart, it is evident that price has formed a higher low above 1.10, and we could expect to see a near term continuation to the upside. Above 1.110, 1.120 could be back into focus, unless the ranging price action breaks out strongly. Minor support at 1.1037 is seen to be established at the current levels, keeping the scope for an upside move intact.
USDJPY Daily Analysis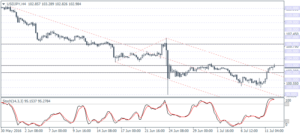 USDJPY (102.98): USDJPY closed on a bullish note yesterday with price action clearing the 102 resistance level. The daily chart is also marked by the bullish divergence against the lower low in price. Next resistance at 104 could be challenged in the near term, while 102 is likely to be tested for support in the near term. On the 4-hour chart, we notice a strong hidden bearish divergence currently and the price action near 104 will be key in this regard. A bearish close after establishing resistance at 104 could keep USDJPY ranging above 102.
GBPUSD Daily Analysis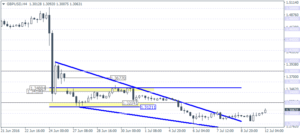 GBPUSD (1.306): GBPUSD has been trading modestly stronger, closing two days on a bullish note. Prices cleared above 1.30 level, and 1.32 resistance could be coming into question. While the breakout from the falling wedge pattern hasn't been strong enough, the upside continuation is likely to confirm the move to 1.32. Establishing resistance here could signal renewed declines in the GBPUSD.
Gold Daily Analysis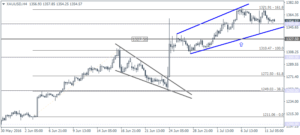 XAUUSD (1354.57): Gold prices closed with a bearish engulfing body yesterday, but prices remain supported above 1350. On the 4-hour chart, we can see gold prices likely to remain range bound within 1370 and 1350. There is scope for further declines only on a breakout below the 1350 support which could see 1327.50 being challenged.
Source: Orbex Forex Broker (Review and Forex Rebates Up to 85%)
---
Categories :
---
Tags :
Forex Analysis
forex bonus without deposit
Forex Broker
forex broker bonus
forex learn
forex learning
forex learning pdf
forex tutorials for beginners pdf
how to trade forex for beginners pdf
learning forex trading pdf
---