Following the weekend Doha meeting where oil producers failed to reach an agreement, the markets opened today with risk off the table. Yen gained sharply while the reaction was muted in EURUSD and Gold, indicating that the current risk-off sentiment could be short-lived. Gold is likely to post a pullback ahead of further declines while USDJPY could start pushing higher over the next few days.
EURUSD Daily Analysis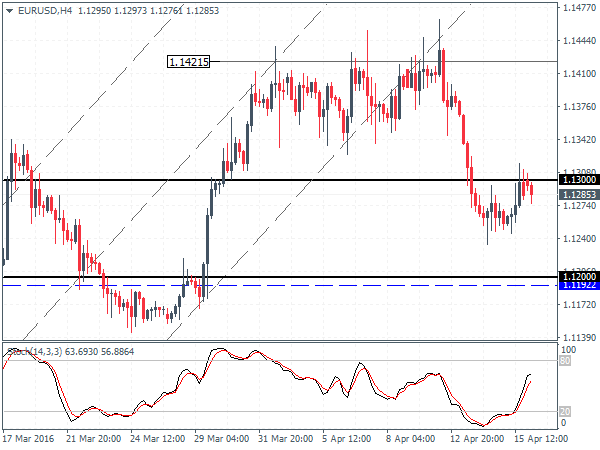 EURUSD (1.12): EURUSD closed the last two daily sessions with a small bodied spinning top/bottom patterns. Prices gapped higher in today's session, and the current declines could see the gap being filled near 1.1284 and could potentially fall to the lower support at 1.120. To the upside, 1.13 will be the resistance level that needs to be broken, which was previously tested on Friday, which could then see a correction towards 1.135. The bias remains to the downside overall as long as EURUSD does not move above 1.140.
USDJPY Daily Analysis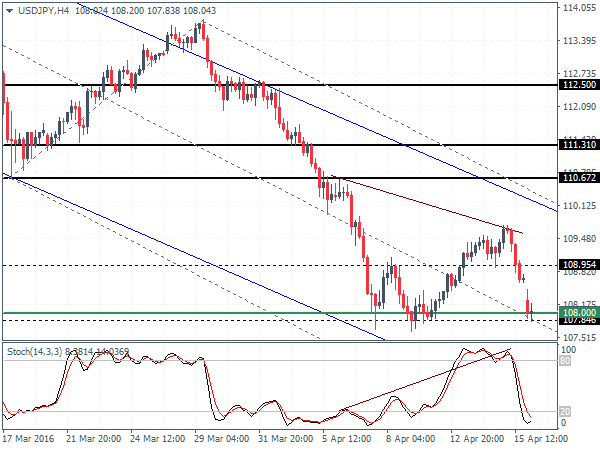 USDJPY (108.0): USDJPY gapped lower in today's session following the reversal pattern last Thursday/Friday. Prices are currently back near the previous lows were seen on 11th April, near 108 region. If this support fails, USDJPY could be looking to post fresh lows with 107.5 likely to be the next target. Alternatively, a bullish close higher could see a potential change of the short-term trend with prices likely to move to 110.67 – 111.43 resistance. Watch the current 4-hour chart unfolds for a potential doji pattern which could validate this view.
GBPUSD Daily Analysis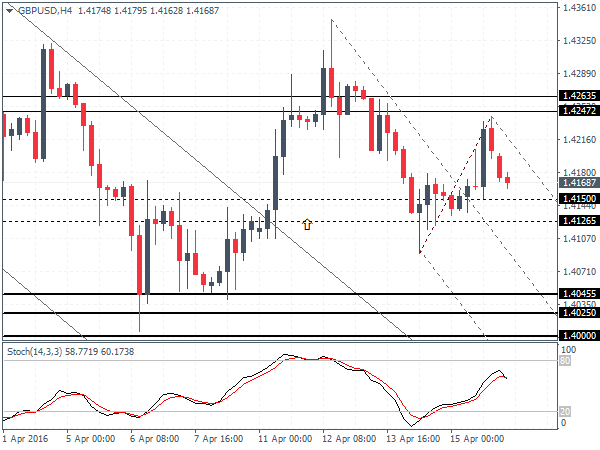 GBPUSD (1.41): GBPUSD is currently bearish following a minor bounce off the 1.415 – 1.4126 support. However, this bounce failed to see prices test the previous resistance near 1.4263 – 1.4247. A break below the support could extend GBPUSD losses towards the previous support at 1.4045 – 1.4025. Alternately, bounce off this support could keep GBPUSD ranging sideways with a potential to rally to test the previously missed resistance level.
Gold Daily Analysis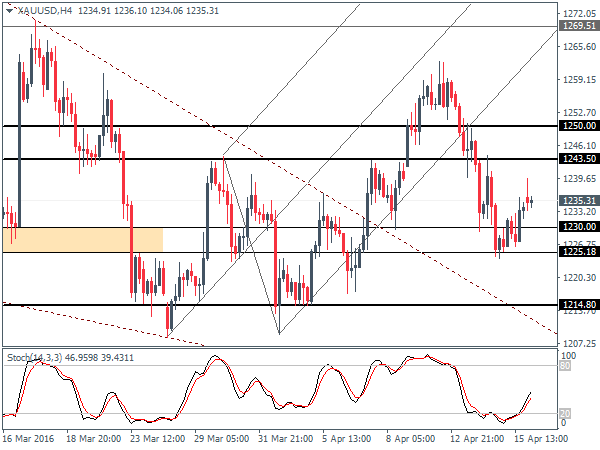 XAUUSD (1235): Gold prices are trading above the 1230 support following Friday's bullish close. Further upside in prices could see a retest to 1243.5 which could be extended to 1250. However, the bias remains to the downside at these levels with Gold likely to fall back to 1230 – 1225 and eventually to 1214 followed by 1200. A close above 1240 through 1250 could, however, shift the short term bias to the upside.
Source: Orbex Forex Broker(Review and Forex Rebates Up to 85%)
---
Categories :
---
Tags :
forex bonus without deposit
Forex Broker
forex broker bonus
forex learn
forex learning
forex learning pdf
forex tutorials for beginners pdf
how to trade forex for beginners pdf
learning forex trading pdf
---