Source: Fxprimus Forex Broker (Review and Forex Rebates up to 85%)
Tuesday December 15
08:30 – Sweden – Riskbank rate announcement – The market expects Riksbank to leave rates unchanged at -0.35% although there are a few economists expecting a further reduction. Any reaction depends on the statement accompanying it. Personally, I expect that they will maintain their current tone, rather than shifting to a more dovish stance along with the ECB. That could cause SEK to strengthen against EUR.
09:30 – UK – CPI/PPI (MoM) (Nov)- As the Bank of England alluded to last week, inflation pressures are subdued, most notably by the drop in the price of oil. Forecasts for a UK rate hike have been put back to the end of next year by many economists. The market expects prices to fall 0.1% mom, which could be negative for the pound.
10:00 – Germany – ZEW Survey (Dec)- The market is looking for a decline in the current situation index but a significant rise in the expectations index. This could prove EUR-positive.
13:30 – US – CPI / Core CPI (MoM) (Nov)- The market is looking for no change in prices from the previous month on a headline basis, while core prices (excluding food and energy) are expected to be up 0.2% mom, the same as in October. A strong CPI number would almost guarantee a hike in rates. However, the recent move lower in oil and other commodities could weigh on the headline number, so be prepared for a volatile reaction from the USD.
13:30 – US – NY Empire State Manufacturing Index (Dec)- The Empire State Manufacturing Index is expected to rise slightly to -7 from -10.74. However, given the release alongside the CPI data, it is unlikely to garner much reaction.
15:00 – US – NAHB Housing Market Index (Dec)- The National Association of Home Builders (NAHB) Housing Market Index (HMI) is expected to improve a bit to 63 from 62. The USD will likely react to any significant deviation from market forecasts.
Fed likely to hike rates; that's not the issue
Tomorrow is what must be one of the most highly anticipated meetings of the US Federal Reserve Bank's Federal Open Market Committee (FOMC), the rate-setting body of the US central bank. It's widely assumed that they will raise the key Fed funds rate for the first time since it basically hit zero in Dec. 2008. "This is probably the most well advertised, discussed, thought about, mused-over prospect of beginning a normalization of monetary policy in history," said New York Fed President Dudley.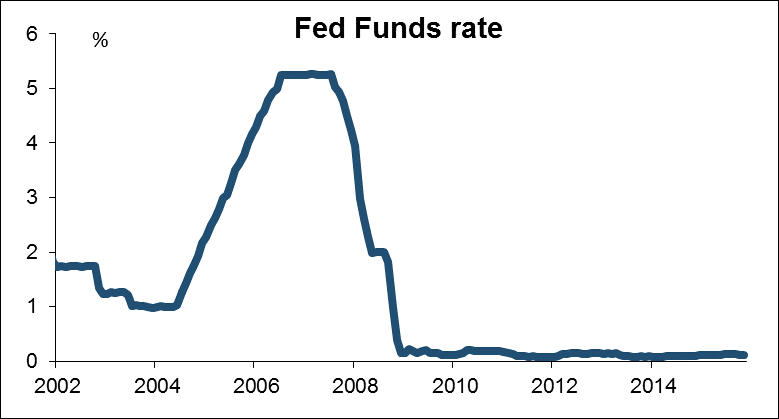 In that case, the question is not what the Fed is going to do Wednesday. The question is, what will they signal about the future course of interest rates? The Committee has to figure out how to set out in the statement their expectations for the future path of rates without committing themselves to a preset course of action. They need to steer a course between the hiking cycle of 1994, when an unpredictable Fed tightened aggressively and nearly started a recession (not to mention one of the worst years for bonds ever) and the "predetermined" hiking of 2004, when they declared that they would hike at a "measured pace" and proceeded to hike a totally predictable 25 bps at each meeting, thereby making policy much more certain than it should be in an uncertain world.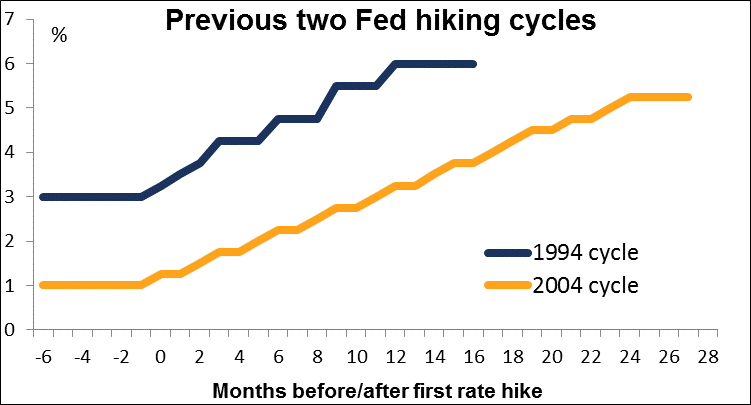 Fed Chair Yellen has suggested that following the first rate hike, any future hikes would depend on the inflation picture. "If we were to move, say, in December, it would be based on an expectation, which I believe is justified, that with an improving labor market and transitory factors fading that inflation will move up to 2%. But, of course, if we were to move, we would need to verify over time that that expectation was being realized and if not to adjust policy appropriately," she said in her statement to Congress in November. That means she will want to leave the Committee plenty of discretion to hike or not to – or even to cut rates again if necessary. "There's always uncertainty that pertains to the economic outlook," she has said. "There are always shocks that occur."
---
Categories :
---
Tags :
CPI/PPI
FOMC
forex bonus without deposit
Forex Broker
forex broker bonus
Forex Daily Analysis
forex learn
forex learning
forex learning pdf
forex tutorials for beginners pdf
how to trade forex for beginners pdf
learning forex trading pdf
---