Forex Daily Analysis – The US dollar fell sharply on Friday after the Q2 GDP data showed that the US economy grew only 1.20%, much less than the forecast of 2.60%. With the markets not convinced about a Fed rate hike in September, the USD crosses jumped including gold, which rose to 1350 while USDJPY fell to 102 on Friday.
EURUSD Daily Analysis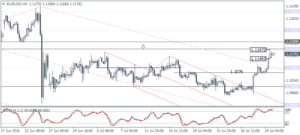 EURUSD (1.1176): EURUSD closed above the resistance level of 1.110 with prices seen pulling back from close to 1.120. The failure to retest 1.120 with closing prices on Friday could keep EURUSD hovering near this level in the near term. Looking forward, EURUSD is likely to resume its declines. Resistance levels at 1.1240 – 1.120 will be important in this aspect, as a bearish reversal here could signal the start of a new decline in prices. For the moment, EURUSD is likely to remain to trade within the previous H4 range of 1.1197 and 1.1149 with a breakout from this range establishing the near term bias.
USDJPY Daily Analysis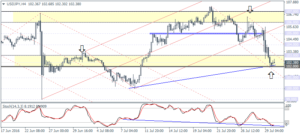 USDJPY (102.38): USDJPY weakened on Friday with the BoJ's actions falling short of expectations and a weaker US data. But with prices sliding to the 103 – 102 support zone, we expect that the declines are likely to stall. On the 4-hour chart, we notice the Stochastics forming a hidden bullish divergence with the Stochastics making a lower low against price's higher low, compared to the 101 – 100 low formed in early July. Watch for a possible consolidation at this level ahead of a move to the upside. A breakout below 102 could, however, keep USDJPY biased to the downside with 101 – 100 support coming into question.
GBPUSD Daily Analysis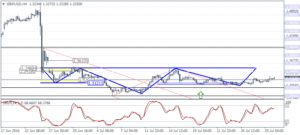 GBPUSD (1.325): GBPUSD attempted to close back above 1.32, but Friday's price action wasn't that convincing. Still, we expect the bias to the upside being retained. On the 4-hour chart, the multiple bounces of 1.312 – 1.308 could see price action extend to the upside. However, GBPUSD could remain range bound into this Thursday's BoE meeting where expectations for a rate cut run high. GBPUSD could be seen trading within 1.34 – 1.30 as a result
Gold Daily Analysis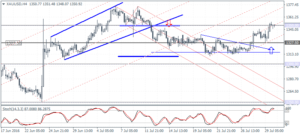 XAUUSD (1350.90): Gold prices rallied to 1350 on Friday as we noted over the past few weeks. While the daily candlestick has been bullish, the 4-hour close on Friday was a doji. In the near term, we expect gold prices to consolidate within 1350 – 1360 levels before prices start to decline. 1327.50 support will be challenged again, and a break down below this level could trigger further downside to 1300. To the upside, above 1350, gold prices could look to test previous highs near 1373.
Source: Orbex Forex Broker (Review and Forex Rebates Up to 85%)
---
Categories :
---
Tags :
forex bonus without deposit
Forex Broker
forex broker bonus
forex learn
forex learning
forex learning pdf
forex tutorials for beginners pdf
GBP/USD
GBPUSD Daily Analysis
Gold Daily Analysis
how to trade forex for beginners pdf
learning forex trading pdf
Orbex Forex Broker
US Dollar
USD/JPY
---