Source: Fxprimus Forex Broker (Review and FX Rebates Up to 85%)
Last week I predicted that we might have a quiet week, because there wasn't much on the calendar and there were several holidays. I got that one wrong! In fact there was amazing volatility last week, focused on JPY (+2.7%) as risk aversion hit the markets and MXN (-4.1%) as oil prices plunged below $30/bbl. Stock markets were down around the world as investors worried about what negative interest rates would do to banks.
This week the emphasis will be on data concerning industry and inflation. There are no major central bank meetings scheduled, but speeches by ECB President Draghi and several FOMC members should keep people on their toes. Minutes from the FOMC and ECB will be scrutinized carefully (also RBA).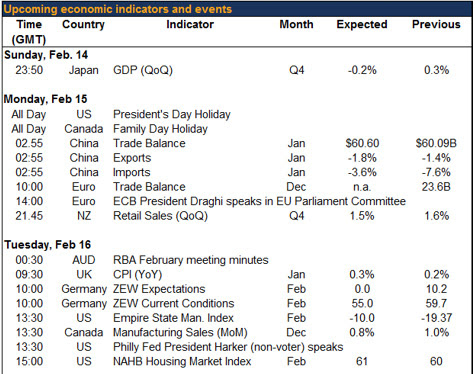 Monday the major indicator of the day will already be out by the time the European market opens – China trade for January – and then later in the day there will be a holiday in the US and Canada. The big event during the European day will therefore be ECB President Draghi's quarterly testimony to the European Parliament's Committee on Economic and Monetary Affairs. We will be looking for any clues on what the ECB might do next. He probably can't say anything specifically, so instead he is likely to spell out what they could do in theory and what tools they have left in their toolbox. The main questions:  how low can negative interest rates go and how many more bonds can they buy?
The data on Tuesday is likely to be poor, reflecting the slowdown in global trade and turmoil in emerging markets, particularly China. UK CPI is expected to accelerate only incrementally, which probably won't change anyone's expectations for Bank of England tightening. The ZEW survey is expected to show both weaker current conditions and weaker expectations for Germany. In the US, the Empire State manufacturing index is expect to improve after the plunge in January, but still remain negative as US manufacturing struggles under the strong dollar. The NAHB housing market indexhowever is forecast to rise a bit, which could help sentiment.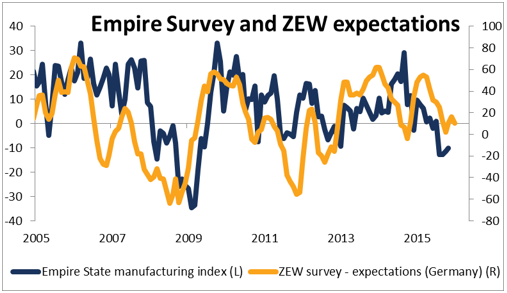 Wednesday the focus will be on the release of the minutes from the January FOMC meeting. Everyone will want to see just how worried the Committee is about the perceived weakening in the US economy and the tightening of financial conditions. US housing starts and building permits for January are expected to show a fairly healthy US housing market, while US industrial production is forecast to show a healthy gain. These indicators could buoy the dollar if people conclude that the rise in rates in December hasn't hurt the economy. During the European day, UK average earnings and unemployment are expected to show that a tighter UK labor market isn't pushing up wages, which could set back expectations for Bank of England tightening and weaken the pound.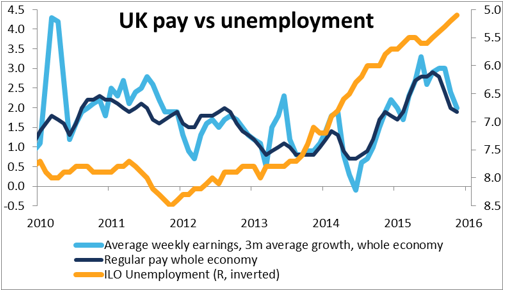 ---
Categories :
---
Tags :
Forex
forex bonus without deposit
Forex Broker
forex broker bonus
forex learn
forex learning
forex learning pdf
Forex News
forex tutorials for beginners pdf
how to trade forex for beginners pdf
learning forex trading pdf
News
---