Source: Fxprimus Forex Broker (Review and Forex Rebates Up to 85%)
The week ahead is going to be a quiet week for news, as one might expect – few major indicators will be released and there are no big speeches or central bank meetings, at least not from the major countries. Liquidity will probably be low in the run-up to New Years, and spreads may widen out. There could be some sudden moves though as small orders can move the market unpredictably. Volatility tends to increase towards the end of the year, as the following graph of the seasonality of FX vol (using the Deutsche Bank FX Vol index) shows.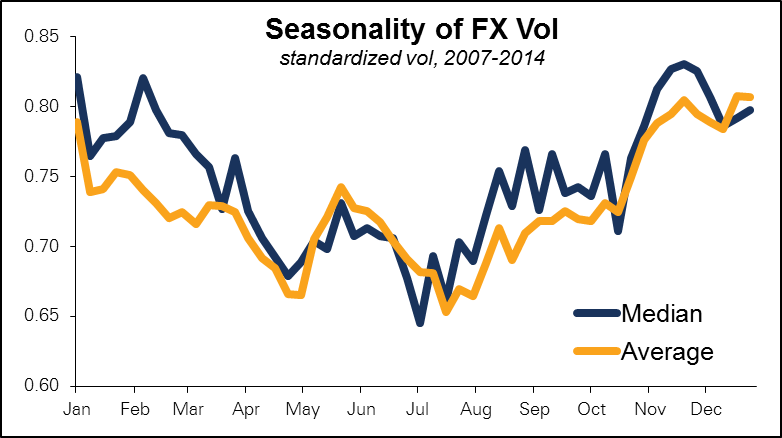 +
We get a similar result if we rank the vol of each week during the year from highest to lowest. Over time each week should tend to converge around average, that is to say, the 26th rank. You can see from this graph too that the end of the year tends to be volatile, with the first and last weeks of the year being the most volatile, on average.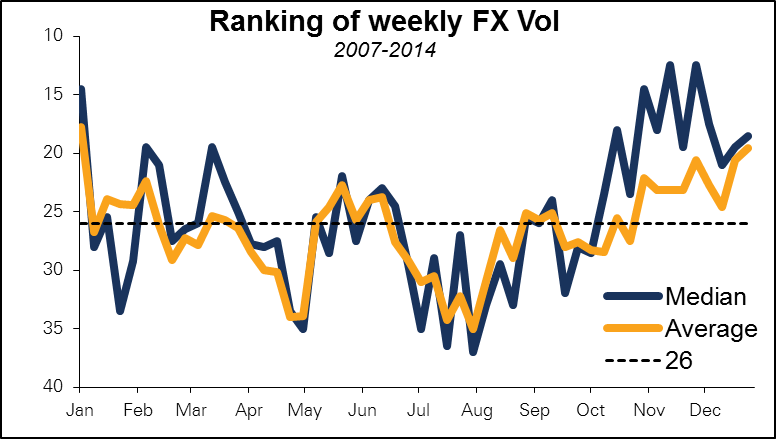 Most of the news out during the week is from the US, but even here it's largely second-tier. As most of it doesn't bear on the Fed's interest rate decision, market participants' focus may lie elsewhere.
01.30 GMT – China – Industrial Profits (YoY) (Nov) – Industrial profits are closely watched as a gauge to the health of the Chinese economy. Falling profits imply less demand for commodities and can therefore be negative for AUD and other commodity-producing countries.
23.50 GMT – Japan – Industrial Production (MoM) (Nov, provisional) – Industrial Production measures the change in the total inflation-adjusted value of output produced by manufacturers, mines, and utilities. As the Japanese economy continues to stumble along, investors will be looking for a third straight month of increasing production on a month-on-month basis, although production is expected to decline for the fourth consecutive month on a year-on-year basis.
23:50 GMT – Japan – Retail Sales (YoY) (Nov) – Retail Sales measure the change in the total value of sales at the retail level. It is the foremost indicator of consumer spending, which accounts for the majority of overall economic activity. With the Bank of Japan so focused on getting inflation to the 2% level, consistent increases in consumer spending are a must. Sales have risen on a yoy basis six out of the last seven months, so the market will be looking for that trend to continue.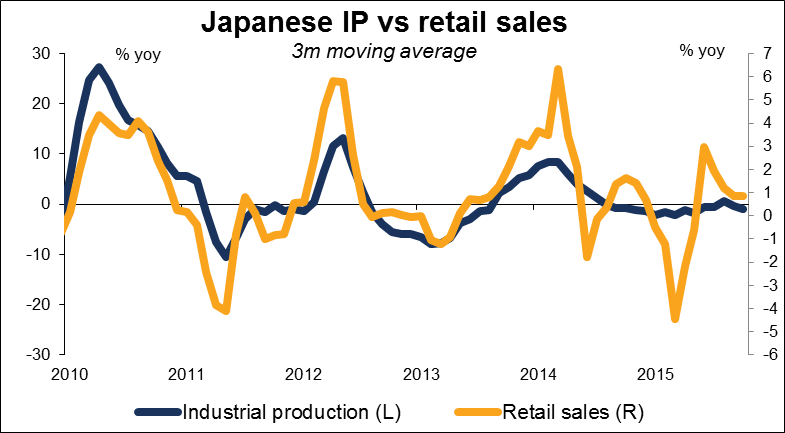 ---
Categories :
---
Tags :
forex bonus without deposit
Forex Broker
forex broker bonus
forex learn
forex learning
forex learning pdf
forex tutorials for beginners pdf
how to trade forex for beginners pdf
learning forex trading pdf
---