Forex News – The US dollar emerged stronger yesterday led by better than expected building permits and housing starts. Still, overall the price action remains fairly subdued as the markets await cues from the ECB's meeting tomorrow. The euro remains range bound but we could see a breakout into the ECB's meeting. On the economic calendar today, UK's labor market data is up, although it is unlikely to see much traction in the sterling. That said, watch for price action near the support of 1.30 – 1.29 which could keep the declines on hold.
EURUSD Daily Analysis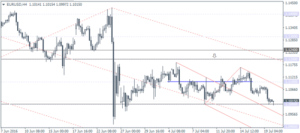 EURUSD (1.101): EURUSD is seen testing the support at 1.10 earlier today following the bearish close yesterday. Still, the daily Stochastics is pointing to a possible bullish divergence, which could see a correction to the now elusive 1.120 resistance level. The test of support at 1.10 has proven to be a strong level since late June, so it is very likely that EURUSD could see some upside. A bounce off this level could potentially trigger a minor move to the upside. Watch for 1.110 resistance in the near term. To the downside, a close below 1.10 could signal EURUSD's declines with 1.09 likely to be the next level of interest to the downside.
USDJPY Daily Analysis
USDJPY (105.93): USDJPY remained flat and was seen testing 106 resistance yesterday. Following the inside bar that was formed on Tuesday, yesterday's daily session closed in a doji candlestick. A bearish follow up here could signal a potential decline to the downside. Initial support at 104.00 could potentially stall the correction, while a clearer retest of the 103 – 102 support level could pave way for a renewed bullish momentum.
GBPUSD Daily Analysis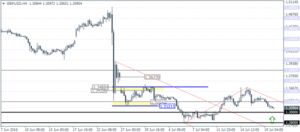 GBPUSD (1.309): GBPUSD broke down below the support at 1.32 yesterday with price likely to test 1.30 to the downside. In the near term, GBPUSD could potentially remain range bound within these levels with the momentum likely to pick up speed following a breakout above 1.34 or below 1.30. On the 4-hour chart, we notice a minor head and shoulders pattern, which points to a near term decline to 1.30 – 1.289 region. A dip back to this support level could mark a retest of support with the potential for an upside breakout. Above 1.32, GBPUSD could potentially target 1.34 and 1.36 in the medium term.
Gold Daily Analysis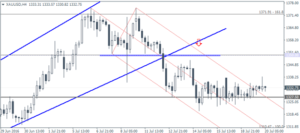 XAUUSD (1332.75): Gold prices continue to remain range bound with price action trading flat for the past four days. The multiple retests to the support at 1327.50 could see a potential retest to 1350 to confirm resistance at this level. To the upside, in case of a breakout above 1350, gold prices could remain caught within the previous range of 1370 and 1350, but further upside is unlikely unless price establishes strong support at the 1350 handle.
Source: Orbex Forex Broker (Review and Forex Rebates Up to 85%)
---
Categories :
---
Tags :
forex bonus without deposit
Forex Broker
forex broker bonus
forex learn
forex learning
forex learning pdf
forex tutorials for beginners pdf
how to trade forex for beginners pdf
learning forex trading pdf
---