[text]
Fundamental Analysis (Oil)
fxempire
Crude Oil dipped by 7 points to trade at 45.08 while Brent Oil fell by 17 cents to reach 48.00 flat as markets are unsure where the bottom price will end up as OPEC members continue to pump record amounts of oil against US shale manufacturers. Oil gave up early gains with Brent futures slipping below $48 on Tuesday as a stronger dollar weighed, offsetting comments from producer group OPEC that prices may have found a floor.
The Secretary-General of the Organization of the Petroleum Exporting Countries, Abdullah al-Badri, said oil prices may have bottomed out and warned of a risk of a future jump to $200 a barrel if investment in new supplies was too low.
"Crude oil markets continue to consolidate near term," ANZ analysts said, adding that Brent traded in the range of $48-$50 last week and showed little direction. "OPEC's Secretary General commented yesterday that prices may have bottomed, but there was no imminent prospect of OPEC producers sitting down to discuss cutbacks until mid-year."
WTI may come under pressure this week as commercial crude stockpiles likely rose nearly 4 million barrels last week, a Reuter's survey showed, after posting its largest build in 14 years in the previous week.
Crude Oil Brent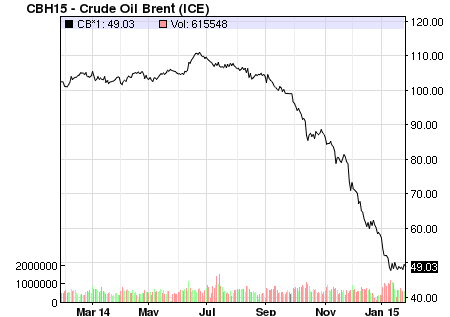 [/text]
---
Categories :
---
Tags :
Abdullah al-Badri
Crude Oil Brent
Fundamental Analysis (Oil)
---