GBP looks to the final GDP revision – The third quarter final GDP from the UK will be the main data point for today in Europe. Forecasts point to a 0.5% increase in the third quarter, unchanged from the second estimates. Trading is likely to remain slow for the most of the day with the new home sales data scheduled during the U.S. trading hours which could offer some short-term volatility.
Yesterday's batch of U.S economic data was mixed as the GDP for the third quarter was revised higher, but personal incomes and spending fell during the month. The greenback was, however, little changed on the news.
EURUSD Intra-day Analysis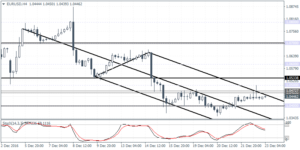 EURUSD (1.0446): EURUSD tested the resistance level at 1.0472 yesterday, but prices were rejected strongly at this level. The near-term outlook could see EURUSD move sideways with the potential to slip back to the lower support near 1.0400 region.
This would market the right shoulder of the inverse head and shoulder pattern. A reversal off 1.0400 handle could see EURUSD attempt to retest the neckline resistance of 1.0472 with further gains coming on a breakout above this level towards 1.0533. The bullish bias remains as long as EURUSD does not post a daily close below 1.0400.
EURGBP Intra-day Analysis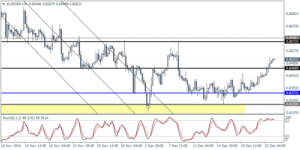 GBPUSD (0.8503): EURGBP has steadily gained after a few days of consolidation near 0.8373 support level. Having cleared the 0.8469 resistance level, price action is now likely to target the next main resistance at 0.8572. A near-term decline back to 0.8469 where support could be established could confirm this view as a higher low would be formed.
The medium-term bias remains to the upside now, and if the upper resistance at 0.8572 is cleared, further gains could be seen coming as EURGBP will likely challenge 0.8740 resistance to eventually complete the correction towards 0.8880.
GBPUSD Intra-day Analysis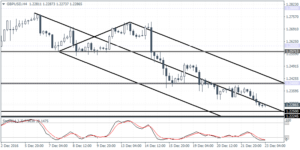 GBPUSD (1.2286): GBPUSD has been weaker for the past four daily sessions as price approaches the key support zone at 1.2250 – 1.2224. A reversal off this level could see a short term correction that could push GBPUSD towards 1.2571 resistance level.
However, the failure to retest the broken support at 1.2400 begs caution as the price could remain choppy within this trading range. If there is no intraday retracement towards 1.2400, GBPUSD could be seen falling towards 1.2250 – 1.2224 support which could be at risk of a further breakdown in prices.
Source : Orbex Forex Broker -Review and Forex Rebates Up to 85% 
---
Categories :
---
Tags :
EURGBP Intra-day Analysis
EURUSD Intra-day Analysis
GBPUSD Intra-day Analysis
https://www.pipsafe.com/Broker-Details/?broker=Orbex-LIMITED
Orbex Forex Broker -Review and Forex Rebates Up to 85%
---