[text]
Technical analysis of GBP/USD dated 11.02.2015
GBP/USD from the top price of 0.71951 till now was in a downtrend that Sellers were able to achieve the lowest price of 1.49223.One of the sellers' targets was the round level of 1.50000(and Down Trendline) that they were successful in reaching to it and the price was not able to descend more by reaching to this level. Right now this price level is one of the important supportive levels in front of the price.
According to the recent strong descending, price is in saturation sell area and there is the potential for ascending and price reformation.
Stoch indicator is in saturation sell area and in divergence mode with the price chart in weekly time frame that confirms the price level of 1.49223 and warns changing price direction during the next candles.In the range of formed bottom price there are Spinning Top , Inverted Hammer and Harami candlestick patterns that shows the possibility for formation of a successful bottom price in continuing ascending trend.
Written by the technical team of PipSafe Company
GBP/USD Chart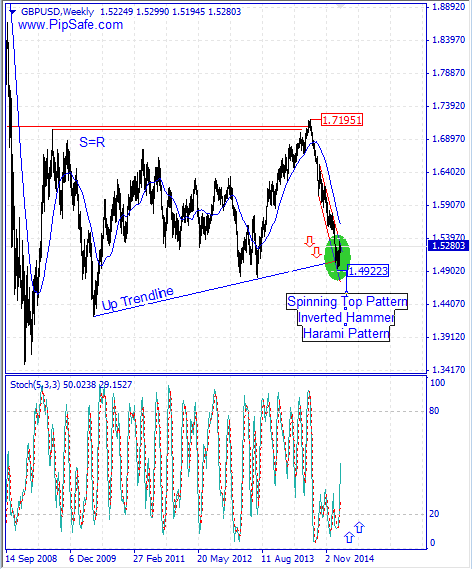 [/text]
---
Categories :
---
Tags :
Forex
forex bonus without deposit
Forex Broker
forex broker bonus
forex learn
forex learning
forex learning pdf
forex tutorials for beginners pdf
GBP
GBP/USD
GBP/USD Analysis
gbp/usd Chart
GBP/USD News
Harami Pattern
how to trade forex for beginners pdf
Inverted Hammer
learning forex trading pdf
PipSafe Forex Cash Back
Spinning Top Pattern
---