Gold – Oil Analysis – The WTI Crude Oil market initially fell during the session on Tuesday, and then raced towards the $50 level. We did not break above it yet though, so we need to get a daily close above there in order to start buying. However, there are signs that we will eventually, so given enough time it is likely that we will continue to grind our way higher from here. A pullback from here will more than likely have quite a bit of support at the $49 level, as well as the $48 level also. We don't have any interest in selling at this point in time, at least not until we get a longer-term sell signal such as one on the weekly chart. One thing that we do know is that there is going to be a lot of volatility in this market over the next several sessions, so expect choppiness regardless of what direction we try to head.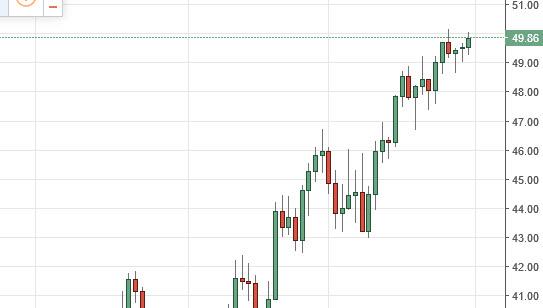 Unlike the WTI Crude Well market, the Brent market did have the strength to break above the $50 level during the course of the day on Tuesday. In fact, we are trying to close at the very top of the range for the day, and that is a very bullish sign. However, there is a significant amount of noise all the way to the $54 level above, so we do not anticipate that the market is simply going to take off to the upside at this point in time.Keep in mind that the US dollar and the value of that currency of course, will have a lot to do with what happens with this market. Ultimately, if the market pulls back from here, there should be plenty of buyers and as a result we believe that the markets going to try to reach towards the $54 level above, which breaking above that becomes more or less a "buy-and-hold" type of situation as far as I can see. It's not until we go below the $48 level that I would even entertain selling this market.
Gold Analysis
The Gold markets broke higher during the course of the day on Tuesday, as the $1200 level has now been supportive again, it does a result it looks as if the market is going to try to continue going higher. If we can break the top of the range during the course of the day on Tuesday, we should continue to bounce and grind our way higher. The word "grind" is very important, because it's exactly what we would anticipate in this market going forward. It's not until we get a daily close below the $1200 level that we are comfortable selling.
Source: Fxempire
---
Categories :
---
Tags :
Gold - Oil Analysis
Gold Analysis
gold markets
WTI Crude
WTI Crude Oil
---