Gold weekly analysis 13 Feb – 19 Feb 2016
Gold goes up rapidly during last 2 weeks. On previous week we are waiting for bump and run pattern but it was not created.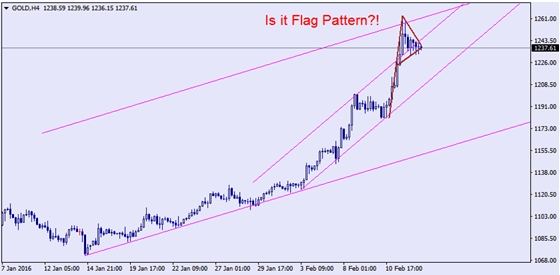 When I analyze the H4 time frame I found one flag pattern but it is not enough reason to buy gold for the next week.
Most forex indicators show us over bough area too.
Let's look at gold candles: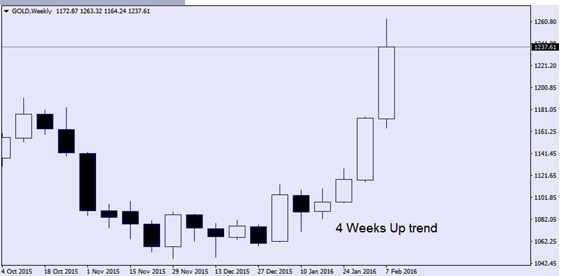 2 weeks ago we had strong up trend candle so on previous week we can see market goes down on Thursday night and on Friday market rest.
Conclusion and recommendation gold signal:
Because we had strong uptrend for 2 weeks so the market did not have huge movement on Friday it seems that gold is ready for the revers signal. sometimes on strong trend after a few days' rest market will continue trend again.
Here I have risky suggestion for you:
Sell stop on 1228
And buy stop on 1262
For both order set 10$ (100 pips) stop lose and 15$ profit target
The other recommendation is wait till Tuesday because I think on Monday we have not huge movement my signal for Monday is buy on bottom and sell on top you can use Bollinger band for this strategy!
M.Jamshhidi
www.pipsafe.com
---
Categories :
---
Tags :
forex bonus without deposit
Forex Broker
forex broker bonus
forex learn
forex learning
forex learning pdf
forex tutorials for beginners pdf
Gold
Gold NEWS
how to trade forex for beginners pdf
learning forex trading pdf
---