On Monday, at a speech at the International Monetary Fund in Washington DC, Bank of England Governor Mark Carney stated that any increases in UK interest rates in the future will be both "gradual" and "limited". He commented that "some withdrawal of monetary stimulus is likely to be appropriate over the coming months" to help return inflation to its 2% target. Recent comments from members of the Bank of England's Monetary Policy committee appear to suggest the possibility of a hike in rates following their next meeting in November and another hike in early Q2 of next year. Markets are suggesting that each hike will be 0.25% which would see UK interest rates potentially climbing to 0.75% in early 2018.
Focus shifts to the start of the Fed's 2-day meeting today. The expectation is that rates will hold steady, with many awaiting clues as to the timing of further tightening later this year. Per the recent CME Fedwatch tool, there is a better than 50% probability that the Fed will hike rates in December. The markets will be eager to see what steps the Fed plans towards policy normalization and when it will start unwinding its massive $4.2 Trillion portfolio of Treasuries.
Geopolitical tensions may be heightened, as President Trump is scheduled to address the United Nations General Assembly today in New York. According to a Senior White House official President Trump is expected to warn member states that they risk being "bystanders in history" if they do not mobilize to confront threats from North Korea and Iran. The same official commented that his speech will focus on "world regimes that threaten security" and "Obviously one of the chief regimes that will be singled out in this regard is the regime of North Korea and all of its destabilizing hostile and dangerous behavior, as well as of course the regime of Iran". Markets will be cautious as to how Pyongyang may respond both vocally and physically.
EURUSD climbed 0.4% to briefly touch 1.2000. Currently, EURUSD is trading around 1.1995.
USDJPY has maintained upward momentum overnight currently trading around 111.75.
GBPUSD remains firm following recent comments from Governor Carney. Currently, GBPUSD is trading around 1.3530.
Gold has given back most of its recent gains as risk-off sentiment has declined. Currently, Gold is trading around $1,307.
WTI is little changed overnight and currently trades around $50.42pb.
Major economic data releases for today:
At 13:30 BST, the US Census Bureau at the Department of Commerce will release Housing Starts (MoM) for August along with Building Permits. The markets are expecting to see an improvement from the 3-month low set in July. The poor data in July has been attributed to builders starting fewer apartment buildings due to a lack of both labor and available building plots. A strong jobs market, jobless claims near 4-year lows and the rebuilding following the recent storms mean the markets are expecting to see an improvement.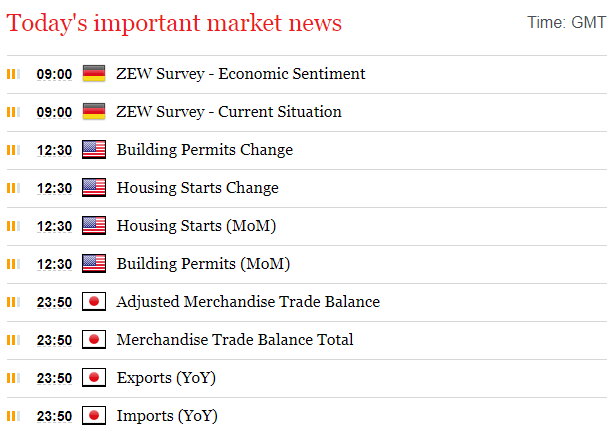 Source: Fxpro Forex Broker
---
Categories :
---
Tags :
Bank of England
UK interest rates
---