Source: XM Forex Broker (Review and Forex Rebates up to 85%)
The Bank of Japan chose not to change course on monetary policy on Thursday and kept interest rates and the size of its asset purchases unchanged. The decision comes even as data out today showed annual exports growth in Japan turned negative for the first time in over a year.
In the accompanying statement released with the decision announcement, the Bank appeared satisfied that the Japanese economy is continuing its moderate recovery despite a noticeable impact on exports and industrial production from the slowdown in emerging market economies. Domestic demand and business fixed investment are seen to be growing moderately and corporate profits are also improving.
The Bank's optimistic view contrasts with recent data that has been mostly on the weak side. Third quarter GDP figures released at the beginning of the week showed Japan entered technical recession after GDP shrank by -0.2% q/q for the second consecutive quarter. Trade data released earlier today showed Japanese exports fell on a yearly basis for the first time since August 2014. While exports are likely to recover somewhat in the next few months, October's 2.1% y/y drop may be a sign that the effects of the weak yen are fading.
In October, the BoJ downgraded its growth and inflation outlook and pushed back the timing of when it expects to hit its inflation target by six months as it admitted that inflation is not rising as quickly as it had anticipated. In today's statement, the Bank said it expects CPI to remain around 0% for "the time being" due to lower energy prices but that inflation expectations "appear to be rising on the whole from a somewhat longer-term perspective".
BoJ policymakers are betting that a tightening labor market will put upwards pressure on wages and trigger price increases. Next year's spring wage negotiations are likely to be closely watched by the Bank as it looks for signs that companies are increasing their spending to boost pay and investment. Higher corporate earnings in Japan have so far failed to spur companies to go on a big spending spree.
In the press conference that followed today's policy announcement, BoJ Governor Haruhiko Kuroda reiterated the Bank's commitment to meeting the inflation target within a 2-year timeframe and will keep on purchasing bonds until it has reached the 2% target. Kuroda dismissed concerns that the quantitative and qualitative easing program is causing liquidity to dry up in bond markets and is willing to adjust the policy if needed.
The yen strengthened slightly against other currencies after the announcement as today's statement and comments did little to assure investors that further easing by the BoJ is on the cards. The dollar dropped to 123.08 yen immediately after the decision and was only marginally higher at 123.11 yen in mid-European session.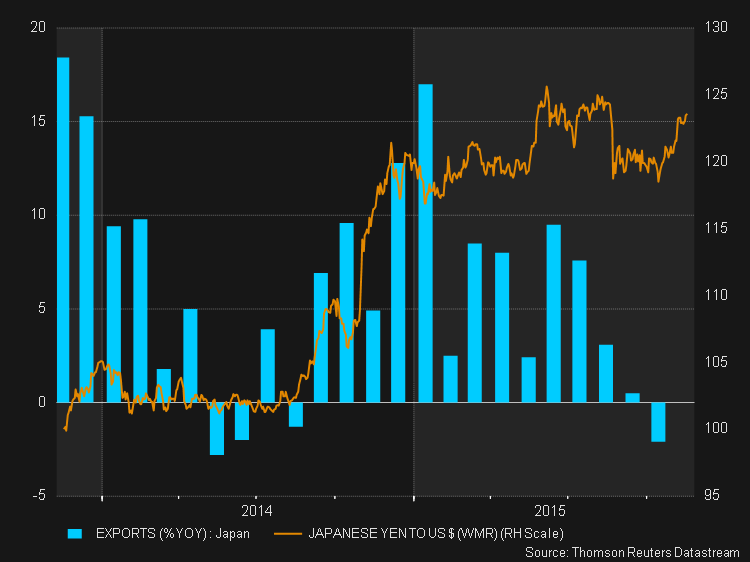 ---
Categories :
---
Tags :
Bank of Japan
CPI
forex bonus without deposit
Forex Broker
forex broker bonus
forex learn
forex learning
forex learning pdf
forex tutorials for beginners pdf
how to trade forex for beginners pdf
learning forex trading pdf
Yen
---