Markit US Services PMI, Conference Board Consumer Confidence – There isn't much significant data coming out during the European day, unless you have a position in the HUF, in which case the Hungarian central bank rate decision is important to you – but even there, no change is expected. The Belgian business confidence index is also coming out, and although this index has a surprisingly good correlation with European conditions overall – probably because Belgium is a small open economy that depends on European business – it has absolutely no impact on the FX market, so don't think of trading it.
The British Bankers Association housing loan figure does sometimes affect the pound. In this case though will anyone be surprised to see a decline in mortgages in June ahead of Brexit? Particularly in light of the small drop in house prices that was already reported by Rightmove. The figure could hurt sentiment towards GBP but I don't think it will have a major impact unless it shows a surprising collapse.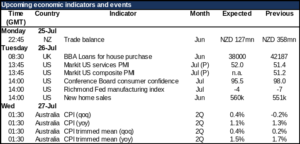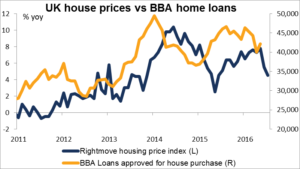 In the US, the Markit services PMI is expected to show a small increase. Coming after last week's greater-than-expected rise in the manufacturing PMI, that could increase confidence in the post-Brexit US economy and boost the chances of an improvement in the FOMC's outlook this week, which would be positive for the dollar. A surprise decline however might be discounted somewhat, given the divergence between the Markit measure and the more widely watched ISM index.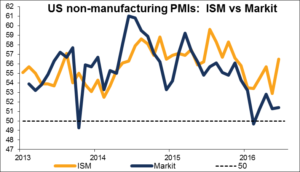 A few minutes later, The Conference Board consumer confidence index is expected to decline somewhat, presumably as a result of the Brexit problems. I'm not sure so many Americans are concerned about Brexit, but I think US consumer confidence could fall further in the months ahead as Republicans consider the disturbing picture of the US that their party is painting and Democrats consider the possibility of a Trump presidency.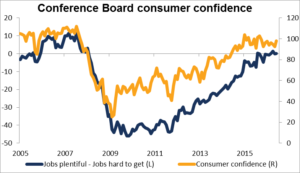 On the other hand, new home sales, which come out at the same time, are expected to improve, following the previous month's decline. Plus the Richmond Fed index is also expected to do a little better, although remaining in negative territory. Those two indices may outweigh the negative impact of the consumer confidence data and push USD higher.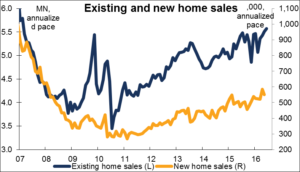 Overnight, Australia comes out with its many versions of the CPI. When the Q1 data came out back in April, the surprise quarter-on-quarter fall in prices helped to fuel expectations of a rate cut and sent AUD/USD crashing. The picture is somewhat mixed this time in that the quarter-on-quarter data is expected to show a rebound in inflation from Q1's exceptionally low level, but the year-on-year data is expected to show a continued slowdown. I expect that the continued deceleration in the year-on-year pace of growth will take precedence and that once again the inflation news will be negative for AUD.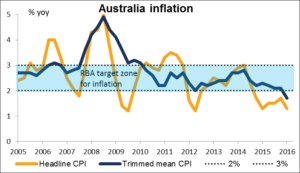 Source: Fxprimus Forex Broker (Review and Forex Rebates Up to 85%)
---
Categories :
---
Tags :
AUD
AUD/USD
CPI
FOMC's outlook
forex bonus without deposit
Forex Broker
forex broker bonus
forex learn
forex learning
forex learning pdf
forex tutorials for beginners pdf
how to trade forex for beginners pdf
learning forex trading pdf
Markit US Services PMI
---