Light Sweet Crude
The light sweet crude market initially rallied during the day on Wednesday but found the $38 level be far too resistive to continue. Because of this, we turned back around and formed a shooting star like candle, and it looks as if we are going to continue to grind our way lower. If we can make a move below the lows from the Tuesday session, we believe that this market will reach towards the $35 level. In fact, at this point in time that's our intermediate target.
Rallies at this point in time should offer selling opportunities every time we get them, especially considering that the $40 level is just above and of course has a certain amount of psychological significance. Even if we broke above there, it's hard to imagine that the market can get above the $41.50 level. With this type of bearish pressure, is just simply reckless to consider buying.
Oil Chart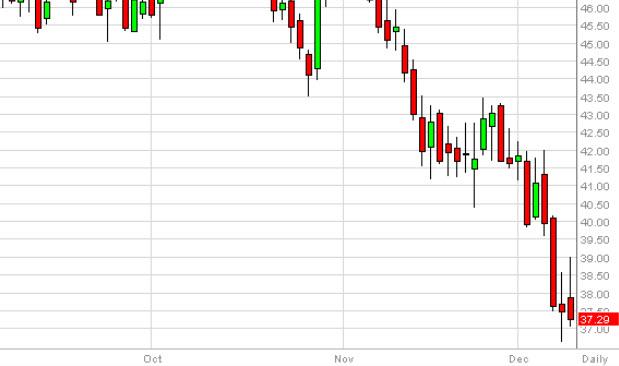 Brent

The Brent market try to rally during the session on Wednesday as well, but also failed. The $41.50 level offered quite a bit of resistance during the day just as it did on Tuesday, and therefore we formed a shooting star, much like the candle that we formed on the previous session. Because of this, it's only a matter of time for we break down in our opinion, and we recognize it sitting right on the $40 level is of course a sign that the market is respecting the large, round, psychologically significant aspect of the $40 level.
We think that the $42.50 level above is essentially the "ceiling" in this market, and therefore think that any rally between here and there will end up being a selling opportunity. Quite frankly, we have noticed whatsoever in buying, and believe that the Brent market falling during a day that saw quite a bit of US dollar selling shows just how bad the situation is in this particular commodity overall. Once we break below the $40 level, the market will more than likely attempt to the $38 level, and then the $35 level.
Oil Chart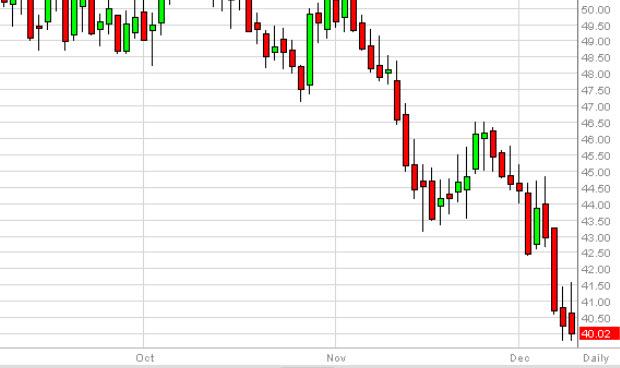 Source: FXEMPIRE
---
Categories :
---
Tags :
Oil
Oil Chart
Oil News
---