The Week in Focus for Jan. 18th – 22nd: China data, Carney speech, Bank of Canada & ECB meetings in focus
Source: FxPrimus Forex Broker (Review and Forex Rebates Up to 85%)
Markets have been extremely volatile so far this year, but this week's indicators look set to take the action to a whole new level. While Monday is likely to be a quiet day with US markets, closed, there's something big happening every other day – including a Bank of Canada meeting on Wednesday and an ECB meeting Thursday. Bank of England Gov. Carney has a big speech scheduled on Tuesday, too. The focus at the beginning of the week will be on China, where several important indicators will be released at the same time. Then at the end of the week, the preliminary manufacturing PMIs for January for several major countries will be released, giving us the first indication of how business is going in the New Year. In between, a lot of important data for the UK will be released, including earnings and retail sales.
Tuesday, Jan. 19th
01.00 GMT – China – Q4 GDP – The market has its doubts about whether China's GDP data can be trusted. Nonetheless, the market does react to it. Expectations are for a slight decline. The market forecast of 6.8% is in line with the Bloomberg monthly GDP estimate of 6.85% for November. The slight decline from 6.9% in the previous quarter suggests to me that Chinese officials are trying gradually to bring down the GDP figure to match the recent official 2016 forecast of 6.8% growth.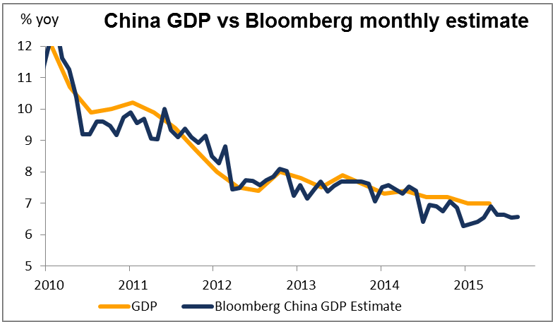 01.00 GMT – China – Fixed Asset Investment, Industrial Production & Retail Sales (Dec)– The market looks for a continuation of the recent trends – investment and retail sales holding steady while industrial output slows further. This is a natural part of the government's efforts to restructure the economy towards a domestic consumption-led growth model. They may want to see investment slow further, too.
10.00 GMT – Germany – ZEW Economic Index (Jan)– The ZEW Survey of both the current situation and expectations are expected to decline. Sentiment surveys recently have generally shown more buoyant conditions than the hard data, but this may be the first indication that sentiment is starting to catch up with reality.
12.00 GMT – UK – BoE Gov. Carney speaks at London School of Economics – The Peston Lectures focus on the interface between economics and public policy. Gov. Carney is expected to use this opportunity to renounce his previous assessment that the Monetary Policy Committee would begin to consider raising rates around the turn of the year. Although the market no longer expects rates to rise any time soon anyway, formally abandoning that target could depress the pound.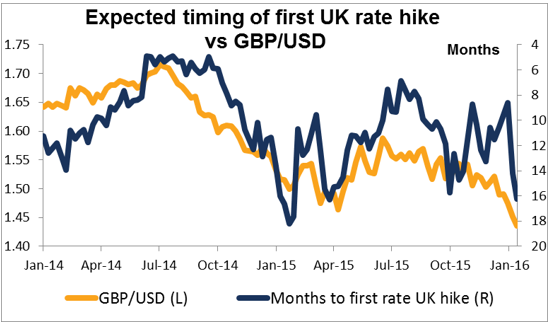 21.45 GMT – New Zealand – CPI (Q4) – An expected decline in New Zealand inflation in Q4 could heighten expectations of an RBNZ rate cut and depress NZD.
---
Categories :
---
Tags :
forex bonus without deposit
Forex Broker
forex broker bonus
forex learn
forex learning
forex learning pdf
Forex News
forex tutorials for beginners pdf
FXPRIMUS Forex Broker
how to trade forex for beginners pdf
learning forex trading pdf
---