Today's important Forex market news – Bank of England Governor, Mark Carney, was interviewed by the BBC yesterday, where he made the comment that he didn't want to get too focused on the precise timing of the next hike and that it's more about the general path. He went on to say that the market should prepare for a few interest rate rises over the next few years, that economic data has been mixed and any rate hikes would be gradual and could be delayed by Brexit.
He also noted that uncertainty around Brexit had prevented what would have been a surge of investment and that productivity is not increasing, which would limit the rate at which wages could pick up. The comments sent shockwaves through GBP pairs, with GBPUSD falling from 1.41989 to 1.40799 in only one hour. GBPJPY fell from 152.421 to a session low of 151.078, while EURGBP jumped from 0.86921 to 0.87699.
The US Bond market also a point of concern, with the 10-year approaching the 3.0% level once again. This played a part in dragging equity markets lower, as the yield curve steepened. EURUSD fell to the lowest levels of the day in yesterday's trading, down from 1.23815 to 1.23279 as a result.
UK Retail Sales (YoY) (Mar) was 1.1% v an expected 2.0%, from 1.5% previously. Retail Sales (MoM) (Mar) was -1.2% v an expected -0.5%, against a prior 0.8%. Retail Sales Ex-Fuel (YoY) (Mar) was 1.1% v an expected 1.4%, from 1.1% previously, which was revised up to 1.2%. Retail Sales Ex-Fuel (MoM) (Mar) was -0.5% v an expected -0.4%, against a prior 0.6%, which was revised down to 0.4%. Retail sales numbers on all metrics missed expectations and fell in yesterday's data release. This was impacted by the unusually cold weather conditions during March, which prevented shoppers getting out, meaning that it is likely a temporary drop that traders can explain away. EURGBP fell from 0.87320 to 0.87173 following this data release.
FOMC Member Brainard spoke about regulatory reform at the Global Finance Forum, in Washington DC. She made the following comments: It is too early to revisit bank capital rules. She added that it may be appropriate to require banks to build a counter-cyclical capital buffer. She warned of growing pro-cyclical pressures, including rising asset prices and leverage. She also said that inflation is well anchored by some signs of imbalances.
US Continuing Jobless Claims (Apr 6) was 1.863M v an expected 1.848M, against a previous 1.871M, which was revised up to 1.878M. Initial Jobless Claims (Apr 13) was 232K v an expected 230K, from 233K previously. Philadelphia Fed Manufacturing Survey (Mar) was 23.2 v an expected 20.1, against 22.3 previously. The data showed a slight increase in unemployment for the third month in a row, coming in above expectations. USDJPY fell from 107.391 to 107.322 following this data.
FOMC Member Mester spoke about the economic outlook and monetary policy at the University of Pittsburgh's Joseph M. Katz Graduate School of Business. Audience questions followed and she made the following comments: Further rate hikes are appropriate this year and next and she said gradual rate hikes would help avoid overheating and financial stability risks. She sees more than 2.5% GDP growth this year. She said that financial market volatility, trade and geopolitics pose risks but have not caused a change in the outlook. She said that monetary policy and financial conditions were still accommodative. She added that the U.S. is "slightly beyond" full employment. She sees inflation moving up to 2% over the next 1-2 years.
Japanese National Consumer Price Index (YoY) (Mar) was as expected at 1.1%, against a prior 1.5%. National Consumer Price Index Ex-Fresh Food (YoY) (Mar) was also as expected, at 0.9%, against a prior 1.0%. National Consumer Price Index Ex Food and Energy (YoY) (Mar) also came in as expected, unchanged at 0.5%. USDJPY moved higher from 107.379 to 107.728 after this data release.
EURUSD is down -0.02% overnight, trading around 1.23432.
USDJPY is up 0.25% in early session trading at around 107.625.
GBPUSD is down -0.08% this morning, trading around 1.40691.
USDCAD is down -0.04%, trading around 1.26655.
Gold is down -0.19% in early morning trading at around $1,342.90.
WTI is down -0.06% this morning, trading around $68.14.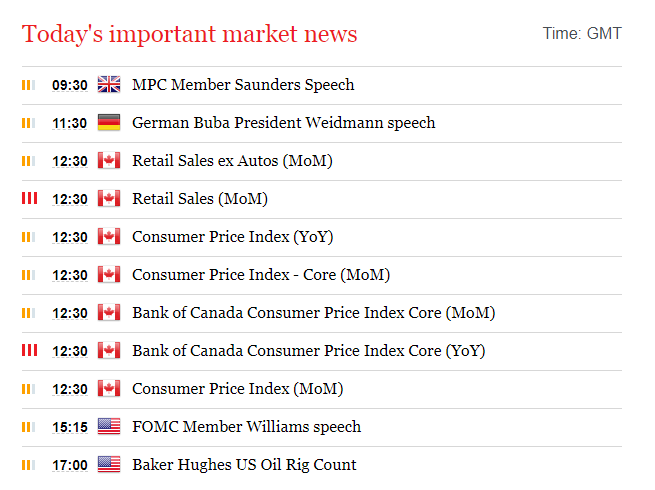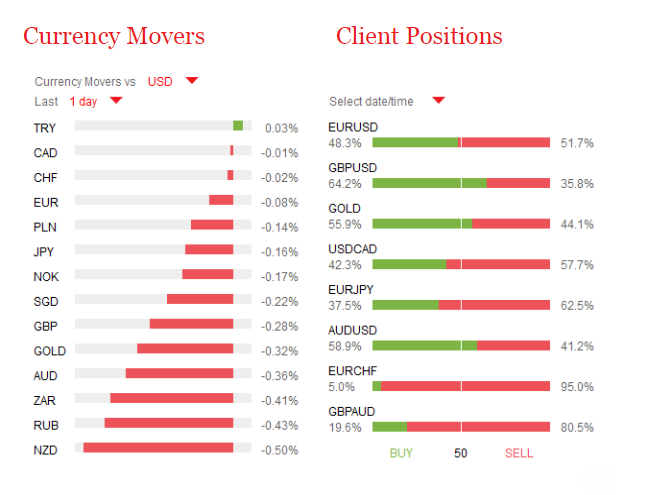 Source: Fxpro
---
Categories :
---
Tags :
Forex Market News
---