UK Brexit Referendum; Preliminary European PMIs – There are some other things on the schedule today, but of course the markets will be holding their collective breaths while waiting for the results of the Brexit referendum. While the polls continue to be too close to call decisively – the lead of one side or the other is usually within each poll's margin of error – the bookmakers have come down decisively in favor of "Remain," which is now at 80%. Given all the problems with polls in recent years, investors seem to be putting much more faith in the bookmakers' odds.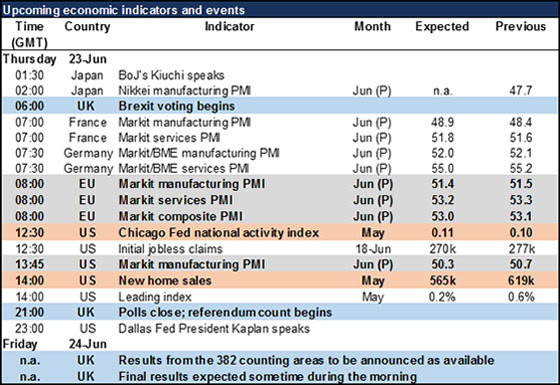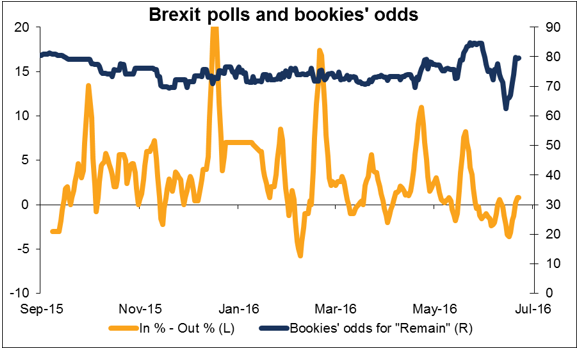 The polls open at 0700 UK time (0600 GMT) and close at 2200 (2100 GMT).Then the counting begins in the 382 counting areas. Pollsters will probably publish exit polls starting from when the polls close, and the results will begin trickling in. By 0300 GMT we should have around half the areas announced and some 80% by 0400 GMT.The final tally may be available as early at 0600 GMT. However, a close vote could take longer – with the Scottish referendum, the formal announcement didn't take place until 0900 local time (0800 GMT).
The problem with watching the result is that nobody really knows how to evaluate the count, because there's no precedent.Normally analysts look at how a region voted and compare it to how the same region voted last time. That way they can extrapolate the change in voting behavior across the country. But there's nothing to compare this vote with, so nobody knows the real meaning of any particular region's vote.
For example, let's take a hypothetical voting district in London that's quite cosmopolitan and has a lot of young voters. If that district voted 60% "Remain," you might think it presaged a solid victory for the "Remain" side nationally. But in fact a district like that would be expected to have a much higher vote for "Remain," and so a result like that would probably mean a national victory for "Leave." Unfortunately, we don't have that kind of detailed information about the composition of each voting area.
Nonetheless, there are some areas that are expected to report early and where different polls have come up with similar conclusions to how the vote is likely to go. These areas will be watched closely to judge whether they are voting as the polls suggested they would.
Aside from the referendum, it doesn't look like the data due out today are going to change the world. The preliminary European PMIs are expected to show little change in the outlook. France is expected to improve a bit, but Germany and the EU as a whole are expected to be down fractionally – but not enough to change anyone's view on inflation or monetary policy.
Source: Fxprimus Forex Broker (Review and Forex Rebates Up to 85%)
---
Categories :
---
Tags :
Brexit referendum
European PMIs
forex bonus without deposit
Forex Broker
forex broker bonus
forex learn
forex learning
forex learning pdf
forex tutorials for beginners pdf
how to trade forex for beginners pdf
learning forex trading pdf
UK Brexit
---