UK construction PMI, ADP report, Caixin China service-sector PMI.
Source: Fxprimus Forex Broker(Review and Forex Rebates Up to 85%)
09:30 GMT   UK Construction PMI (Feb):The UK manufacturing PMI, which had moved in a narrow range for the last 18 months, unexpectedly fell out of the bottom of the range in February, according to Tuesday's data. The construction PMI is expected to rise, but so too was the manufacturing PMI.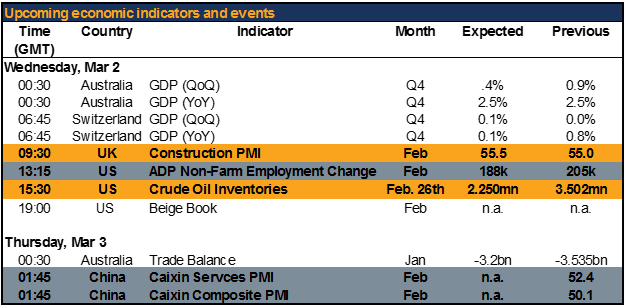 If the construction PMI unexpectedly declines along with the manufacturing PMI, that will only add to the pessimism surrounding GBP and will probably be quite negative for the currency.Since 2013 the two have moved in the same direction only 21 times out of 37 months, i.e. a hit ratio of 57%, so it's not a sure thing. (The hit ratio is the same if we look just at times when the manufacturing index declined.)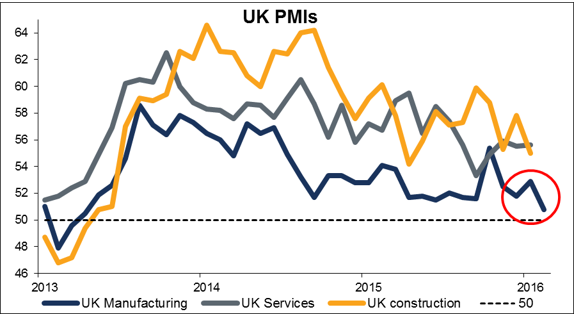 13:15 GMT   ADP report (Feb):The market is looking for some fall-back in the ADP  employment report after January's relatively high level, which far exceeded the non-farm payrolls of the month (205k vs an NFP of 151k). This would be simple mean reversion and would not imply any deterioration in the employment picture in the US. On the contrary, an ADP of 188k would be relatively robust and could further boost expectations of Fed tightening, thereby boosting the dollar. The figure may be a bit more confusing than usual as it includes the annual revisions. In any event, the absolute value of the difference between the ADP figure and the initial NFP since the beginning of 2015 is 47k or 22% of the NFP number, so it is an unreliable estimate at best.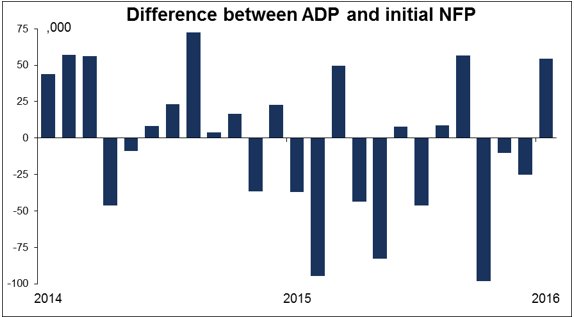 ---
Categories :
---
Tags :
ADP report
forex bonus without deposit
Forex Broker
forex broker bonus
forex learn
forex learning
forex learning pdf
forex tutorials for beginners pdf
how to trade forex for beginners pdf
learning forex trading pdf
UK construction PMI
---