The Bank of England is widely expected to raise UK interest rates for the first time in 10 yearstoday. An expected 0.25% rise, to 0.5%, will push UK interest rates back to pre-Brexit levels. UK inflation climbed to a 5 year high of 2.9% in August, significantly above the Bank of England's Monetary Policy Committee (MPC) target of 2% and September saw the rate increase to 3%. Recent data has indicated that the UK economy is performing better than expected, with growth rising to 0.4% in Q3 which, to many, is an indication that a rate hike will not adversely affect growth. The MPC stated in September that a "majority" of members believed that some withdrawal of stimulus would be appropriate if the economy continues to grow at a steady pace. The markets are "pricing-in" a 91.2% probability of a rate hike today. If the BoE does not raise rates the markets will put downward pressure on GBP. If rates rise, as expected, there may only be slight upward pressure on GBP, as the markets have already factored in a hike. Regardless of the announcement, we are likely to see volatility in GBP.
In the US on Wednesday, the US the Federal Reserve, as expected, kept interest rates unchanged. The Fed underscored recent data that indicates solid economic growth and a strengthening labor market. The markets are now expecting the Fed to hike rates in December. The ADP employment report on Wednesday said the private sector added 235K jobs last month, more than the 196K the markets had forecast. The better-than-expected ADP data suggests an improving job market, even aside from the recent storms. Such strong data is indicating the US has the resiliency to endure a rise in interest rates. The markets will be looking ahead to Friday'salways impactful Non-Farm Payroll release for further confirmation of a robust labor market, which will, inevitably, underscore the likelihood of a December rate hike.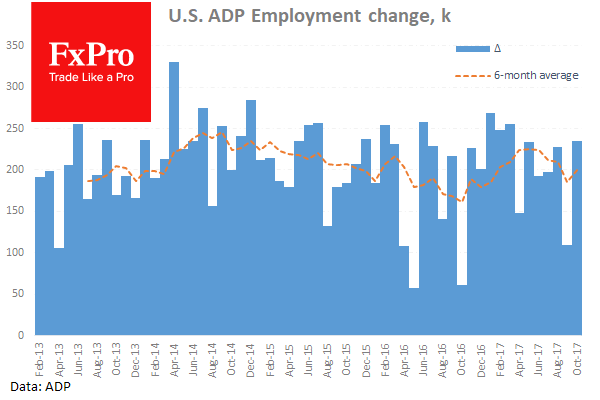 EURUSD is 0.3% higher in early trade at around 1.1656.
USDJPY is 0.2% lower in early Thursday trading at around 113.90.
GBPUSD has edged 0.3% higher overnight ahead of today's interest rate decision. GBPUSD is currently trading around 1.3285.
Gold has gained 0.36% on USD weakness to currently trade around $1,278.75.
WTI is little changed, currently trading around $54.35.
Major data releases for today:
At 09:00 GMT, the Bundesagentur für Arbeit published by the German Statistics Office will release the Unemployment Rate s.a. & Change for October. The rate is forecast to be unchanged at 5.6% with the change forecast at -11K, which is not as strong as the previous release of -23K.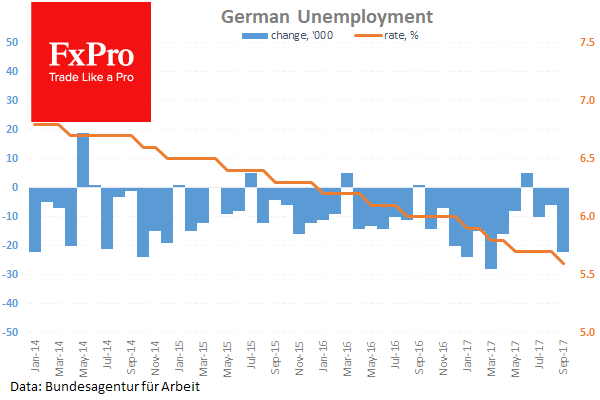 At 09:30 GMT, the UK Chartered Institute of Purchasing & Supply and Markit Economics will release UK PMI Construction for October. The forecast is expected to show a slight decline to 48.0 from September's release of 48.1.
At 12:00 GMT, the Bank of England will announce its interest rate decision. The markets are expecting a hike of 0.25%, taking UK interest rates to 0.5%. Analysts are unanimous that the BoE will raise rates for the first time in 10 years, bringing UK interest rates back to pre-Brexit levels. The BoE will also release its Quarterly Inflation report, Monetary Policy Statement and Asset Purchase Facility, all of which will be overshadowed by the interest rate decision. Regardless of the interest rate decision the markets are likely to see higher volatility in GBP.
At 12:30 GMT, Bank of England Governor Mark Carney is scheduled to deliver a speech outlining the rationale behind the 12:00 noon interest rate decision. The markets will be looking for clues as to future monetary policy and the timing of future interest rate hikes.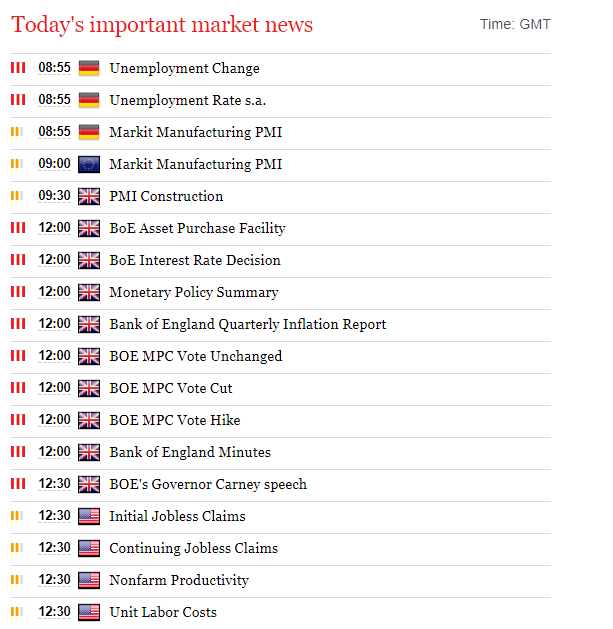 Source: Fxpro Forex Broker
Fxpro Forex Broker Review and Details
---
Categories :
---
Tags :
German Unemployment Rate
UK interest rates
UK PMI Construction for October
---