UK retail sales, ECB minutes, G7 Finance Ministers and Central Bankers' Meeting – The UK remains in the spotlight during the European day with its retail sales figures for April. Sales fell month-on-month in both February and March. Against that background, the bounce-back expected in April is fairly weak. We saw on Tuesday and Wednesdaythat disappointing UK data still has the power to move GBP, although Brexit poll data is more important. A weak number here would be likely to weigh on sterling, at least temporarily.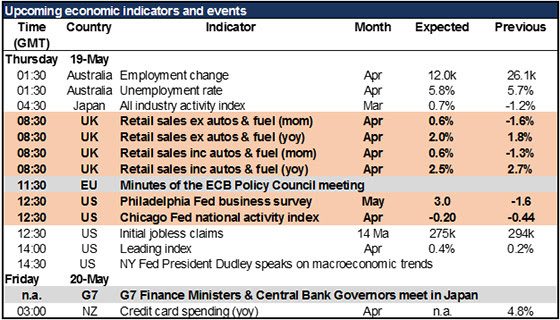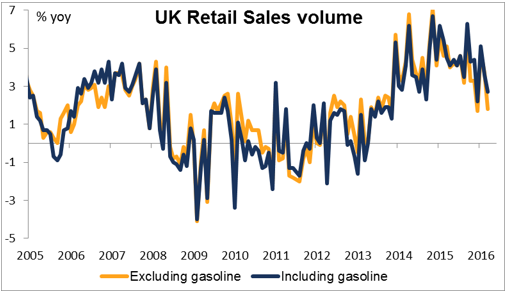 The ECB minutes cover a meeting that dealt largely with technical details and so nothing radical is likely to emerge. The only surprise was President Draghi's comment that they could use all available tools if they thought the economy needed further stimulus. This was in contrast to the March meeting, where he implied that interest rates had basically hit bottom. We will be interested to find out why he changed his view and particularly whether it had anything to do with the strength of the euro.
The Philly Fed index and the Chicago Fed national activity index will both be closely watched after the Empire State manufacturing index unexpectedly fell sharply. In fact the change in the Empire State index says nothing about what we're likely to see from the other two. Although over time they tend to trend together, since Jan. 2005 the Philly Fed index has moved in the same direction as the Empire State index only 46% of the time and the Chicago and Empire indices only 47%, and there is virtually no correlation between their month-on-month changes. Nonetheless the market is probably braced for disappointing numbers, which means an upside surprise is likely to have a stronger market impact than a downward surprise. That's why I expect the figures to be USD-positive.
Source: Fxprimus Forex Broker (Review and Forex Rebates Up to 85%)
---
Categories :
---
Tags :
forex bonus without deposit
Forex Broker
forex broker bonus
forex learn
forex learning
forex learning pdf
forex tutorials for beginners pdf
how to trade forex for beginners pdf
learning forex trading pdf
UK retail sales
---