USDJPY looks to FOMC and BoJ meetings – The Federal Reserve will be releasing its monetary policy statement, economic projections and holding a press conference later today. The markets remain jittery ahead of the meeting, but the attention is on USDJPY, which will later see the BoJ meeting early tomorrow. EURUSD is showing signs of a recovery to 1.138 – 1.140 while GBPUSD looks poised for a short-term retracement to 1.44. Gold has stalled near 1289 – 1290 levels but risks a decline to 1220 – 1230 levels.
EURUSD Daily Analysis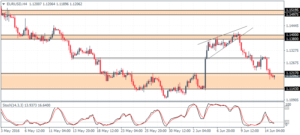 EURUSD (1.120): EURUSD fell to 1.120 support yesterday, and price action shows that we could expect to see a bounce off this level. The upside is limited with the bounce off 1.120 likely to see EURUSD retrace back to 1.1380 – 1.140 which will mark a correction and also establish resistance at the level which was briefly tested earlier in June. To the downside, below 1.120, the next main support comes in at 1.110. Above 1.140, EURUSD could see further gains but could move sideways within 1.14975 – 1.1520 resistance level.
USDJPY Daily Analysis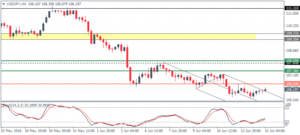 USDJPY (106.1): USDJPY has been trading within 106.27 – 105.60 support for the past two days with prices being rejected near the lower end of the support. Any bounce off this support could see USDJPY test the resistance near 108.0 – 107.850 levels. On the 4-hour chart, price action is showing signs of shifting bias to the upside, but will be valid only on a close above the minor resistance at 106.5 – 106.70 level. To the downside, a close below 105.60 could see USDJPY slide lower to 105.35 – 105.00 support.
GBPUSD Daily Analysis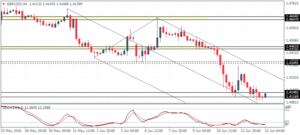 GBPUSD (1.413): GBPUSD extended its declines yesterday, but prices managed to close above the previous day's doji low at 1.4115. We could, therefore, expect to see a follow through here, with a close above 1.420 likely to see a near term rally towards 1.44250 to establish resistance on what was a support level previously. To the downside, in the event of a break below 1.4115, further declines are seen towards 1.40530 support. On the 4-hour chart, GBPUSD has marked a reversal with a doji and a close above 1.41482 could signal a near-term retracement in GBPUSD.
Gold Daily Analysis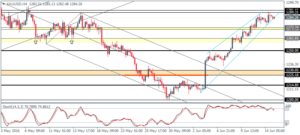 XAUUSD (1284): Gold prices continue to remain biased to the upside with prices posting a high above 1289 yesterday. A follow through here could see gold prices likely to push higher on a close above 1290 – 1300 level, but the strong momentum led rally is likely to show signs of exhaustion. To the downside, support at 1230 – 1220 remains key to validate any further moves to the upside. With prices trading at resistance, gold could see a near term correction lower with minor support levels at 1273 – 1271 followed by the 1250 psychological support.
Source: Orbex Forex Broker (Review and Forex Rebates Up to 85%)
---
Categories :
---
Tags :
BoJ meeting
EURUSD Daily Analysis
forex bonus without deposit
Forex Broker
forex broker bonus
forex learn
forex learning
forex learning pdf
forex tutorials for beginners pdf
GBPUSD Daily Analysis
Gold Daily Analysis
how to trade forex for beginners pdf
learning forex trading pdf
USD/JPY
---