A New Way to Trade Binary Options  – Trading can be complex. New ways of investing your money can appear daunting at first, with websites and trading platforms filled with information that can be overwhelming. The purpose of this e-book is to give you an insight into the simplicity of Binary Options trading. Using our step-by-step guide, and real life examples, you will understand how, when and why to trade Binary Options..
trading alternative to this rapidly emerging market. I realised straightaway that there was a gap at the quality end of the market and a real absence of binary option trading platforms to provide this level of service to the experienced trader.Bearing this in mind, Banc De Binary was built from the ground up to lead the market by providing innovative ways to enrich its clients' portfolios. I can gladly say that our senior account managers are the best in the industry. I really believe that people are Banc De Binary's greatest asset, and we employ a stringent recruitment process to ensure that we hire senior account managers of the highest calibre.
Why Binary Options?
Binary options traders don't have to spend all their time and attention on keeping track of spreads, leverage, deposit margins, stop-loss strategies, hidden transaction fees and interest rate differentials, like other traders do. Binary options give traders back the power to focus solely on making correct predictions and, consequently, to enjoy making money.Our traders can make money in spite of volatile markets, and in many cases are able to make successful predictions because of market volatility. These conditions are exactly why binary options are enjoying such a boom right now.
I think that prospective traders should remember that one of the key benefits of binary options trading is that it affords you a high level of control over your portfolio. It is the one form of trading that actually allows you to minimise and set your own levels of risk. This means that diligent traders automatically enjoy higher levels of success than more traditional asset trading, simply because they are able to manage their risk exposure.Most importantly, risk calculation on binary options is easy to understand. With more traditional assets it's common for prospective traders to lose track of their exposure in a given investment. However, with binary options the set price and all-or-nothing nature of the outcome means that a trader's exact risk is known. As a consequence, binary option traders are able to make wiser decisions about money and account management.
Why Now?
I think that in many ways the turbulence in financial markets in recent years has directly led us to this place because so many traders now view the idea of more traditional speculative trading as far too risky and riddled with hidden complexities to consider. Rising volatility and a staggering increase in the number of available investment vehicles has further muddied the waters, increasing the margins of error and the frequency of costly mistakes. In complete contrast to this situation, binary options have carved out a niche that focuses on straightforwardness, known risk and the ability to capitalise in volatile markets.
What's Next?
Looking to the future, I believe that binary options trading will become increasingly popular and the range will continue to grow. Most importantly, I believe the amount of money invested through binary options trading will also rise dramatically. In fact, I wouldn't be at all surprised to see binary options trading soon rival today's forex trading market.As a final word of advice I would like to say to any trader to please remember that Banc De Binary is actually on your side. Very few investment banks can honestly make that claim – here at Banc De Binary we sincerely believe that.
A Definition of Binary Options
Binary Options, also known as Fixed Return Options, are investment vehicles that allow investors to trade on the price movements of underlying assets, with fixed, pre-determined returns. Binary options can be placed on virtually any financial product.When placing a binary option on any asset, the potential return is known before the investment is made. The investor places their option at a fixed strike price and chooses whether they think the price will go up or down in a given amount of time.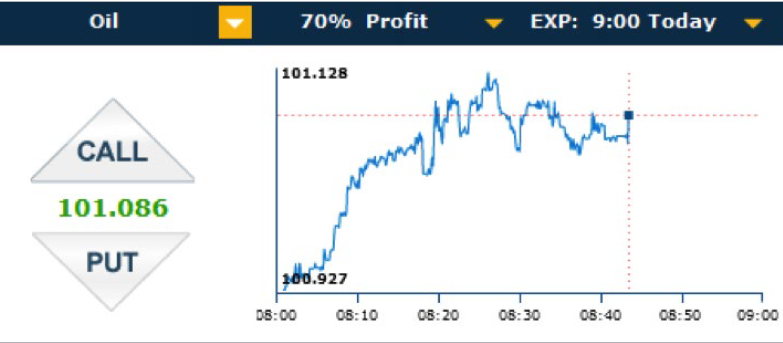 If, at the set expiry time, the asset has moved in the direction you predicted, then the trade is In-the-Money and a pre-set pay-out is earned. If not, then the trade is considered Out-of-the-Money, and the trader loses the initial stake.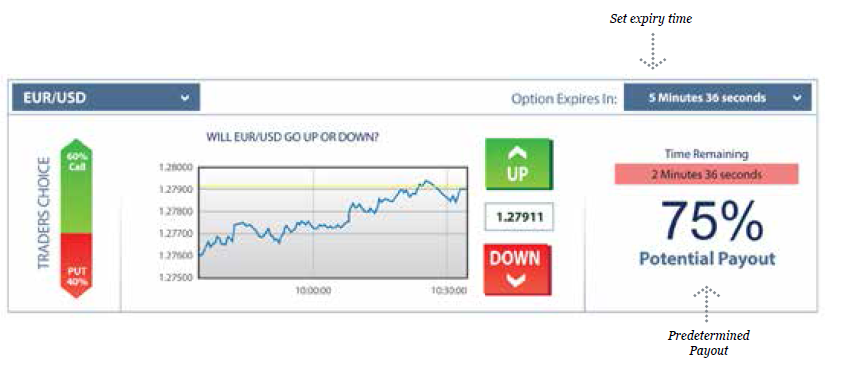 The dual nature of these options, where there are only two values – either up or down – is what gives these options their dual, i.e. binary, nature.
A History of Binary Options
Binary options trading has evolved to specialised websites offering online trading platforms where standardised short-term binary options can be traded with a pre-determined profit/loss.The way binary options works today is a simplified version of the over-the-counter (OTC) binary options contracts of the past, which were sold directly by the issuer to the buyer and were often embedded in more complex option contracts.
Trading Made Simple
Binary option trading is revolutionary in the way that it offers a simplified version of trading ideal for novice traders, while also offering experienced traders the tools to properly capitalise on their expertise.Binary means one or the other, and it is this simplicity that has been one of the major reasons for the popularity of binary options with new traders, whether they come from a financial background or have no trading experience at all. The very simple nature of this new way of trading means that it does not matter whether you have experience or not in trading; binary options levels the playing field for all traders – no matter what their background.
In essence, binary option traders are simply attempting to successfully forecast the future direction of everyday stocks, commodities and currencies. In its simplest form of up or down, all that a winning trader is required to predict is either the upward or downward movement on a financial market chart. Therefore, binary options, as the name suggests, have only two possible outcomes:
WIN
or
"In-the-Money"
If the trader is correct, and the asset price rises or falls according to their prediction, the trader receives a return of 65-91% on top of their original investment.
LOSE
or
"Out-of-the-Money"
If the trader is incorrect, and the asset price does not rise or fall according to their prediction, they lose most or all of their initial investment
Binary options are the perfect investment vehicle for event trading. With so much complexity in the fundamentals of every asset, the simplicity of executing a binary options trade allows investors to immerse themselves in asset research, and trade only when they feel they have isolated a profitable entry point. Also, because binary options tend to be short-term investments, they allow traders to get in and out of markets at times of high volatility and make profits that other investment vehicles simply cannot match.
To read more ,Please download the book.
Source: Banc De Binary
---
Categories :
---
Tags :
(OTC) binary options
ads securities no deposit bonus
Binary Options
binary options demo account
binary options learn
binary options strategy
binary options strategy for beginners
binary options strategy forum
binary options strategy pdf
binary options trader
binary trading strategies pdf
forex bonus without deposit
Forex Broker
forex broker bonus
forex learn
forex learning
forex no deposit bonus
forex no deposit bonus 2016
History of Binary Options
hot forex no deposit bonus
learn binary
no deposit bonus forex
no deposit bonus forex august 2016
no deposit sign up bonus
trading binary options strategies and tactics pdf free
---