AUD/USD Technical Analysis – The AUD/USD finished unchanged on Monday after Fed Chair Janet Yellen gave an upbeat assessment of the U.S. economy in a speech at the World Affairs Council of Philadelphia. She did not give a specific time period for the next hike but said the Fed funds rate probably needs to rise gradually over time.Volume was down after last Friday's spectacular rally and ahead of the Reserve Bank of Australia's interest rate decision and rate statement due to be released at 0430 GMT.
The RBA is expected to leave its benchmark rate unchanged at 1.75%.The wording of the final paragraph of the policy statement in which the bank will communicate its bias on the outlook for domestic interest rates should have the biggest influence on the longer-term trend of the market. Prior to the release of the statement, investors are debating whether the central bank will reinsert an easing bias in the statement, indicating that a further reduction in interest rates is likely to occur in the period ahead, or leave the statement out entirely.After the RBA announcement, the Aussie is likely to get its direction from global equity and commodity markets. Greater demand for higher-yielding, higher-risk assets should be supportive.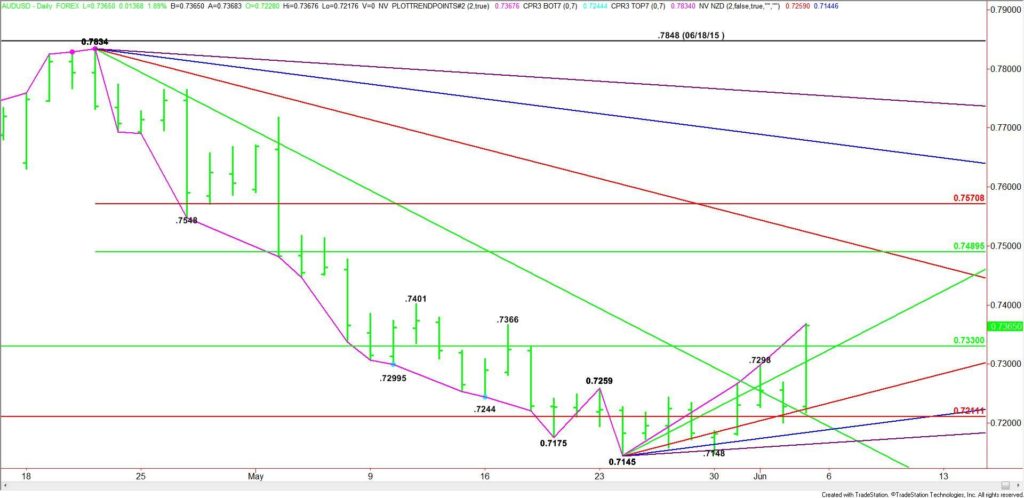 Technically, the main trend is up according to the daily swing chart. However, the AUD/USD is ten days up from the recent bottom, which puts it in the window of time for a potentially bearish closing price reversal top.The main range is .7834 to .7145. Its retracement zone at .7489 to .7571 is the primary upside target. A major downtrending angle at .7504 passes through this zone, making it an important target also.Based on the close at .7366, the direction of the AUD/USD today is likely to be determined by trader reaction to the uptrending angle at .7345.A sustained move over .7345 will signal the presence of buyers. The daily chart is open to the upside so this could create strong momentum. The key upside target area today is .7489 to .7504.A sustained move under .7345 will indicate the presence of sellers. This could create enough downside momentum to challenge the major 50% level at .7330.The daily chart opens up to the downside under .7330 with the next major target the next uptrending angle at .7245.Watch the price action and read the order flow at .7345 today. Trader reaction to this angle will set the tone for the session. The RBA interest rate statement will help provide volume and volatility.
Source: Fxempire
---
Categories :
---
Tags :
AUD/USD Technical Analysis
AUDUSD Technical
binary options trader
---