Bank of Canada meeting, US oil inventories – The European day Wednesday starts with the Ifo indices. All of them are expected to rise. The ZEW expectations index was lower this month, but the PMIs rose, so the Ifo could indeed meet its forecast.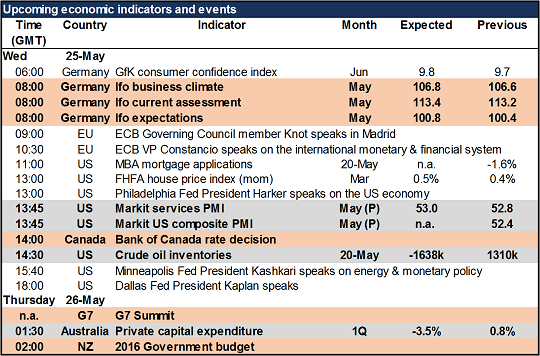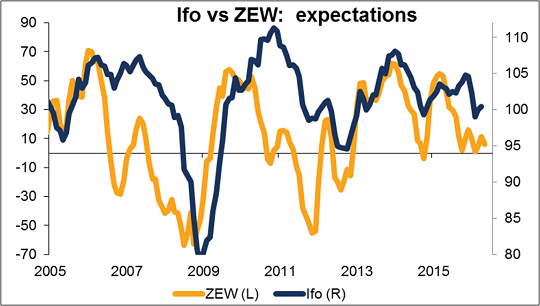 The US day starts with the Markit service sector and composite PMIs. These don't have as much impact as the manufacturing index does, but they do move the currency markets somewhat and so are worth watching. They're expected to show a modest rise, although the manufacturing PMI was too, and that fell. Another disappointment here could cause the USD rally to stall somewhat.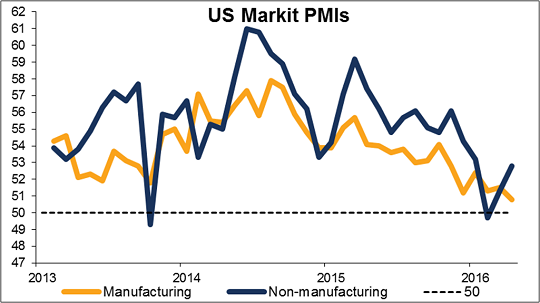 Next up is the big event of the day:  the Bank of Canada rate decision. The Bank is unlikely to make any changes in its overnight lending rate, which has been at 0.5% since July of last year. In fact, no change in rates either way is priced in for the remainder of this year. Core inflation is at the Bank's target level and oil prices are recovering, meaning no cut in rates is necessary. On the other hand, growth is losing momentum and with the wildfires in Alberta cutting into the nation's oil production, Q2 could see a contraction in GDP. Now would be a bizarre time to start normalizing rates. The statement is likely to include an assessment of the impact of the fires, which may give it a more dovish tone that would be CAD-negative. Watch for any change in Gov. Poloz' expectation that the economy would approach potential growth in the second half of next year.
Source: Fxprimus Forex Broker (Review and Forex Cashback up to 85%)
---
Categories :
---
Tags :
Bank of Canada meeting
forex bonus without deposit
Forex Broker
forex broker bonus
forex learn
forex learning
forex learning pdf
forex tutorials for beginners pdf
how to trade forex for beginners pdf
learning forex trading pdf
US oil inventories
USD rally
---