Crude Oil Technical Analysis (2016.04.04)
The WTI Crude Oil market initially tried to rally but then fell significantly. Because of this, it looks as if we are getting ready to continue to fall, so once we break below the $36 level, the market should then look for the $34 level after that. Ultimately, rallies will more than likely be sold off as well, and with that we remain very bearish of this market. With this, the market is one that should be continue to offer plenty of opportunities to go short. The $42 level above should continue to be a massive ceiling in this market, and the oversupply continues to simply weigh upon the trend far too much for this strong move higher to continue that we've seen recently. Having said that, look for signs of exhaustion as an opportunity to take advantage of failed rallies.
Brent markets fell rather significantly during the course of the session on Friday as well, with a massive support level just below at the $38 level. Because of that, it may take a couple of attempts to break down below that support barrier. Once we get that though, the market should then track the $36 next, and then possibly even $34 level. Given enough time, we could break down below there as well, but right now the market should continue to simply grind away sideways with a bit of bearish pressure every time we rally.
The US dollar of course has an effect on the value of this commodity, and it did start rising after the Nonfarm Payroll Numbers on Friday. That could have a bit of an effect on this market as well, and could put more bearish pressure on crude oil. Simply put though, the fact that we are running out of storage worldwide it is going to continue to be a very negative factor in this market, and could keep prices lower for the foreseeable future. We have no interest in buying this market right now, and believe that the sellers will continue to control things.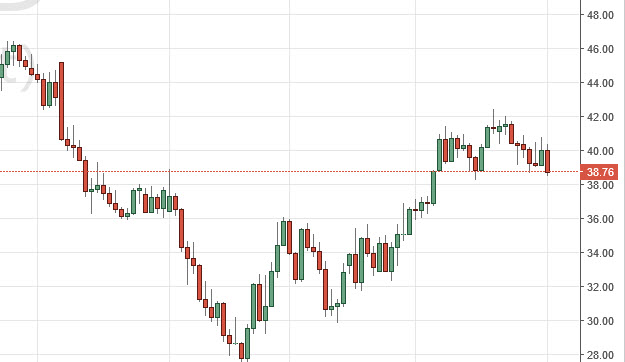 Source:Fxempire
---
Categories :
---
Tags :
Gold & Oil News and Analysis
Oil
---