EUR/USD Forecast – The EUR/USD pair initially tried to rally during the course of the session on Tuesday, finding enough resistance above the 1.10 level to continue to grind this market lower. The market picking down below the 1.10 level was a significant breakdown in my estimation, and the previous rectangle should send this market looking for the 1.08 handle given enough time. I have no interest whatsoever in buying this market, and any rally at this point in time should continue to offer selling opportunities. With this, I believe that all of the problems in the European Union will continue to cause issues in this pair.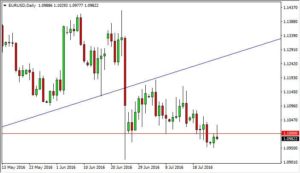 The dollar gained traction on Tuesday finding resistance near the 10-day moving average at 1.1030, following a stronger than expected new home sales report.  Additional resistance is seen near the 200-day moving average at 1.1073.  Momentum is negative as the MACD (moving average convegence) prints in the red with a downward slpiong trajectory which points to a lower exchange rate.  The RSI is stabilizing which reflects consolidation.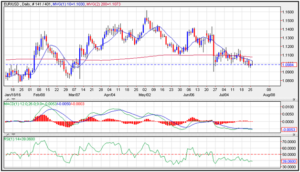 U.S. new home sales rose 3.5% to 0.592 million in June, well above expectations and is the best since February 2008, following an unchanged 0.572 million print in May. April's prior 12.3% surge to 0.586 million was revised down to a 6.5% increase to 0.572 million. Sales were mixed regionally with gains in the West and Midwest. The months' supply of homes fell to 4.9 from 5.1. The median sales price jumped 6.2% to $306,700 following a 9.8% drop to $288,800. On an annual basis, prices are up 6.1% year over year following a 0.5% year over year pace.
Source: FXEMPIRE
---
Categories :
---
Tags :
dollar
EUR/USD Forecast
EUR/USD pair
MACD
moving average convegence
RSI
---