[text]
Gold News and Analysis (2015.06.29)
ugust Comex Gold futures gapped higher despite the sharply higher U.S. Dollar. The previous resistance is now new support. The first support is a pair of Fibonacci levels at $1178.80 and $1177.80 and an uptrending Gann angle at $1178.10. This area is controlling the direction of the market.
A break back below $1177.80 will be the first sign of weakness. A move to the weak side of a steep downtrending angle at $1177.70 will signal that the selling is getting stronger. This could trigger a fast break into an uptrending angle at $1170.10. The next angle comes in at $1166.10. This is the last angle before the $1162.10 main bottom.
A sustained move over $1178.80 will signal the presence of buyers. The first two targets were tested earlier when the market rallied to $1187.60. These two levels are a pair of 50% levels at $1183.90 and $1188.30.The first downtrending resistance angle drops in at $1191.70. This is followed by an uptrending angle at $1194.10.
Based on the main range of $1232.80 to $1162.10, the first major upside target is a retracement zone at $1197.50 to $1205.80. A pair of downtrending angles fall inside this zone at $1198.70 and $1202.20.Taking out the Fibonacci level at $1205.80 will also mean that buyers have taken out the swing top at $1205.70. This is likely to trigger an acceleration to the upside with the next target way up at $1226.40.Based on the early price action, the tone of the market is likely to be determined by trader reaction to $1177.80. Look for a bearish tone to develop under $1177.80 and a bullish tone on a sustained move over $1183.90.
Gold Chart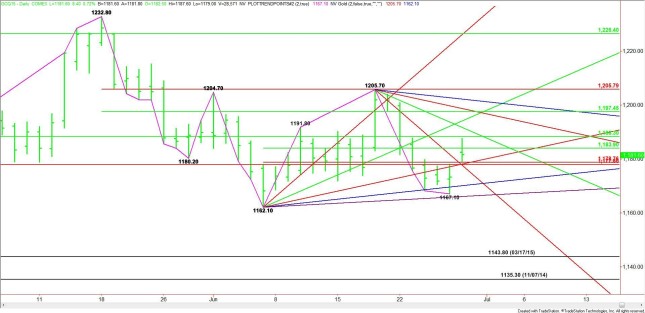 Source :FxEmpire
[/text]
---
Categories :
---
Tags :
Analysis
binary options trader
Gold
Gold NEWS
---