Gold & Oil Analysis – The WTI. Oil market initially trying to fall during the course of the day on Wednesday, but we did break up above the $40 level during the day, and therefore it appears that the market is ready to continue falling. With this, I'm looking for an exhaustive candle in order to start shorting this market yet again, as crude oil has been so bearish for so long. We have rolled over completely, so at this point in time I have no interest whatsoever in buying this market, as it continues to show quite a bit of negative momentum, so therefore I believe it's not until we can break above the $45 level that you can seriously think about buying this contract. Given enough time, the sellers will continue to take advantage of this negative trend that seems to be accelerating over the last several weeks.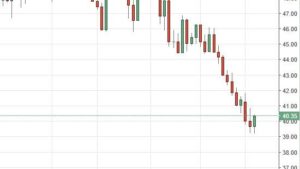 Brent markets did bounce a bit during the day as well, but quite frankly I see far too many reasons to think that we will eventually find resistance somewhere near the $46 level. The $46 level above should continue to offer quite a bit of resistance and serve as a bit of a "ceiling" in this market. I am simply looking for exhaustive candles in order to start selling, and therefore have no interest whatsoever in buying until we get above there. The market should continue to fall and I believe that $40 is far too significant of a target for the sellers to ignore or even bypass. I believe that the strengthening US dollar will continue to work against the value of Brent as well, so at this point in time I don't really think that it's going to be easy to buy this market. On top of all of that, we have to worry about whether or not the United Kingdom or the European Union will produce enough demand for this contract to continue going higher as well. Because of this, I am selling signs of exhaustion again and again and looking for much lower levels.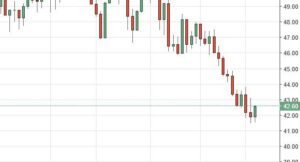 Gold Prices August 4, 2016, Technical Analysis
Gold markets initially tried to rally during the day on Wednesday, but pulled back to reach towards the $1350 level. There is quite a bit of support just below, so having said that it is probably only a matter time before we go higher. I believe that supportive candles below will give us an opportunity to go long, and take advantage of "value." Ultimately, I believe that the market will continue to go higher, and with that being the case it's likely that the market will remain "buy only" going forward. I believe that this pullback is simply an opportunity to go long again. Having said that, how do you feel about this pullback, is it an opportunity?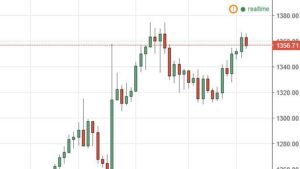 Source: FXEMPIRE
---
Categories :
---
Tags :
Brent markets
Gold - Oil Analysis
Gold Prices
---